Industries & Professions That Love Caretta
March 18, 2019
Main image photo: Modern Urban Series Desk
A desk is the central furniture piece for any office. Whether in a home, corporate office, on a university campus, or anywhere in between, a Caretta Workspace desk is the ideal solution for professionals in many diverse industries.
Offices need to be functional for daily work, but also beautiful for daily enjoyment and a feeling of luxury. Caretta desks can be found in the workspaces of medical doctors, attorneys, financial professionals, realtors, and many others who work from corporate offices or at home. These professionals rely on multiple monitors and ergonomic workspaces for maximum productivity. We have multiple computer display options and our easy cable management system with built-in power strips makes the desk a truly functional and beautiful workspace.
Financial institutions, auto dealerships, hotels, universities, doctor's offices, legal offices—these are just some of the professions that need distinguished-looking furniture for offices, showrooms, conference areas, and public spaces. Our solid wood designs give an air of luxury to any room. Many of these industries choose our custom laser engraving service for their desk modesty panels to add a touch of individuality and branding.
From contractors to audio and video production studios to software engineers, today's professionals spend a lot of time at their desks. Caretta offers many options for creating an ergonomic workstation. Our L-shaped desks keep everything within easy reach while our executive sit/stand desks allow you to switch positions whenever you desire.
With a full line of matching conference tables, meeting tables, book shelves, coat trees and other office products, outfitting a complete Caretta office just makes sense.
Our desks grace the executive offices and homes of professionals in many industries, including:
Law firms
Financial professionals
Energy companies
Universities
Property maintenance
Automotive manufacturing
Building materials manufacturing
Emergency healthcare service
Digital readout manufacturing
Medical professionals
Medical billing
Corporate event production
Architecture firms
Contract manufacturers
Foodservice equipment manufacturers
Federal government agencies
State and local government agencies
Insurance companies
Tourist parks
Retail shopping malls
Semiconductor manufacturing
National labs
Defense
Agricultural
Book publishing
Logistics and transportation
Professional photographers
Artist's studios
Bank headquarters
Construction companies
Software companies
Telecom companies
Mattress manufacturing companies
Engineering services companies
Beer distributors
Religious institutions
Counseling services companies
Plastics manufacturing companies
Museums
Plumbing companies
Trade associations
And more…!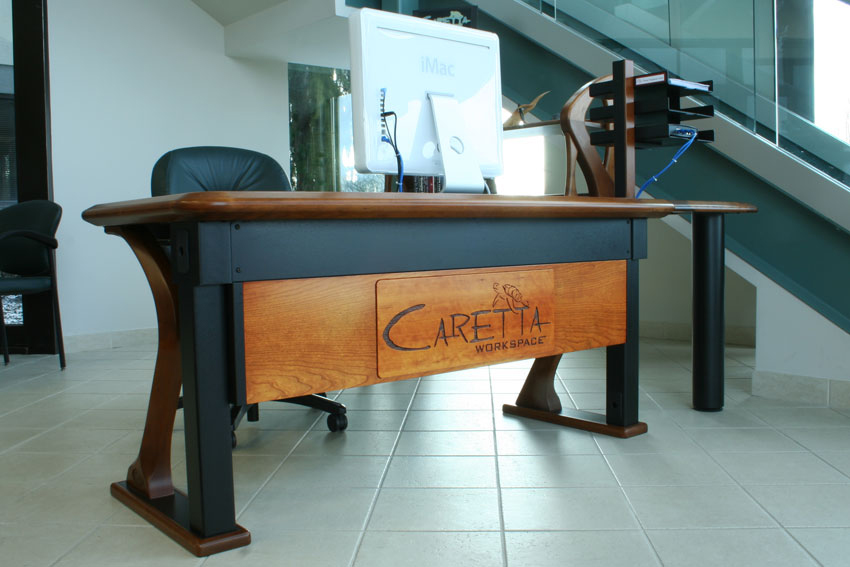 Artistic Series Desk with Laser Engraved Modesty Panel
Browse our different styles of desks and companion products to find the perfect Caretta Workspace products to feature in your office space. We can customize and personalize any of our products to match your specific style and taste. Call today for a free wood sample!
« Back to General Blog