Cable Management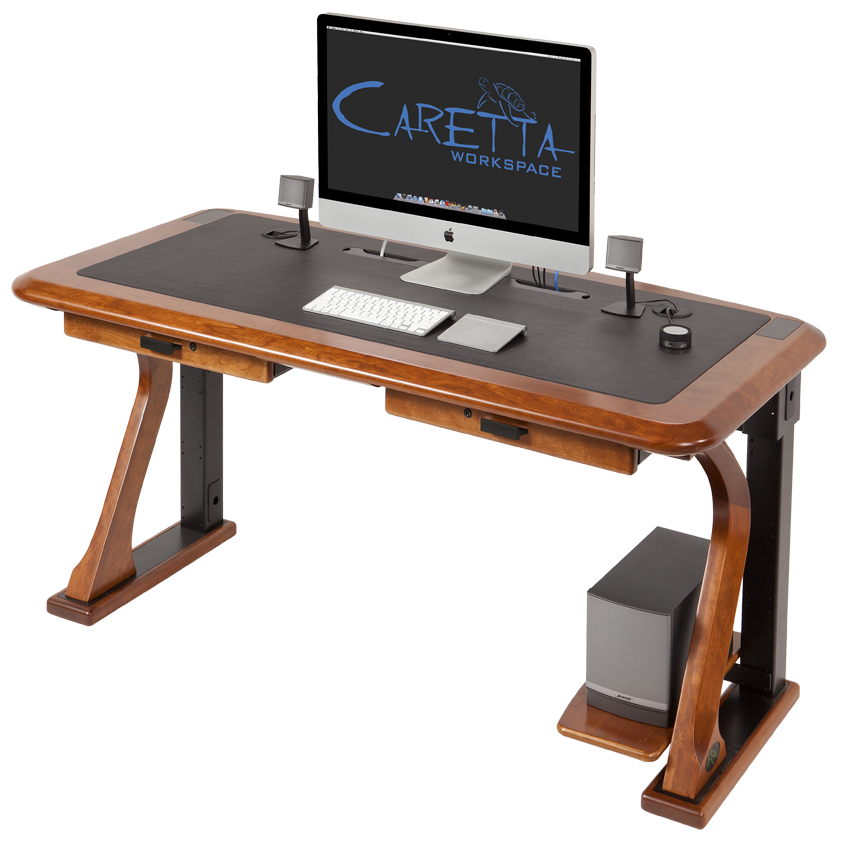 Make Tangled Wires and Cables Disappear


Preserve the beauty and neatness of your workspace. Caretta Workspace's design conceals cables and wires in cable trays and passageways that are hidden throughout the desk and connected to an integrated, 6 or 12 position surge suppressing power strip. All of your equipment integrates into your desk, with just one power cable coming out. Now that's smart!
Artistic, Modern Urban, Traditional, and Standing Desks: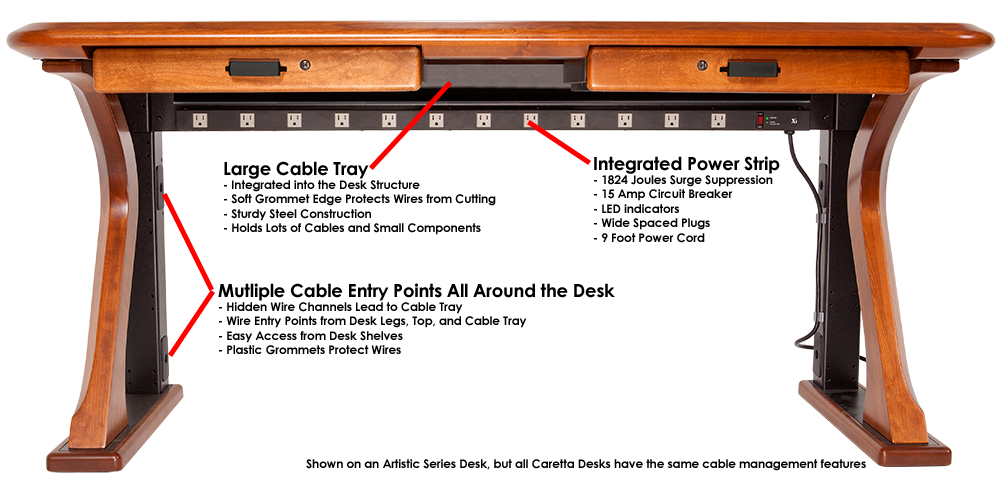 Vinton Sit-Stand Desks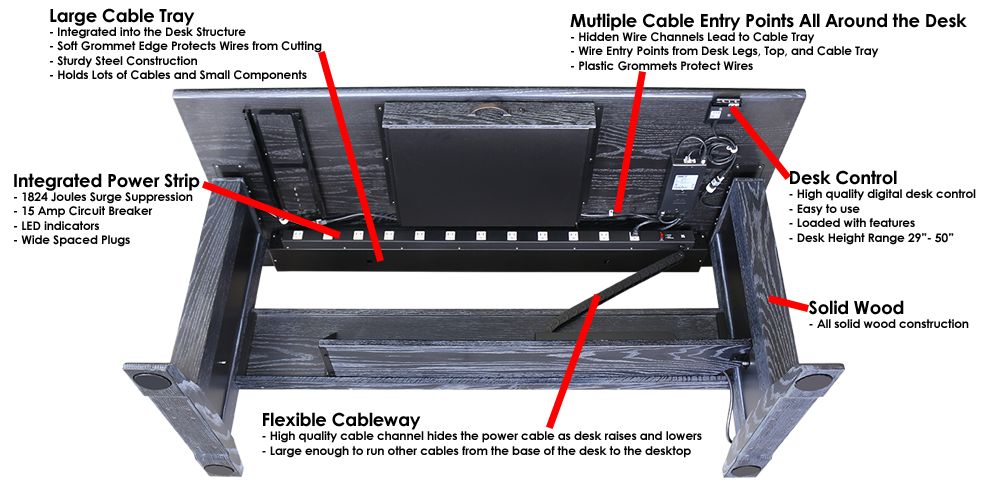 Loft Series, College, Logo Desks: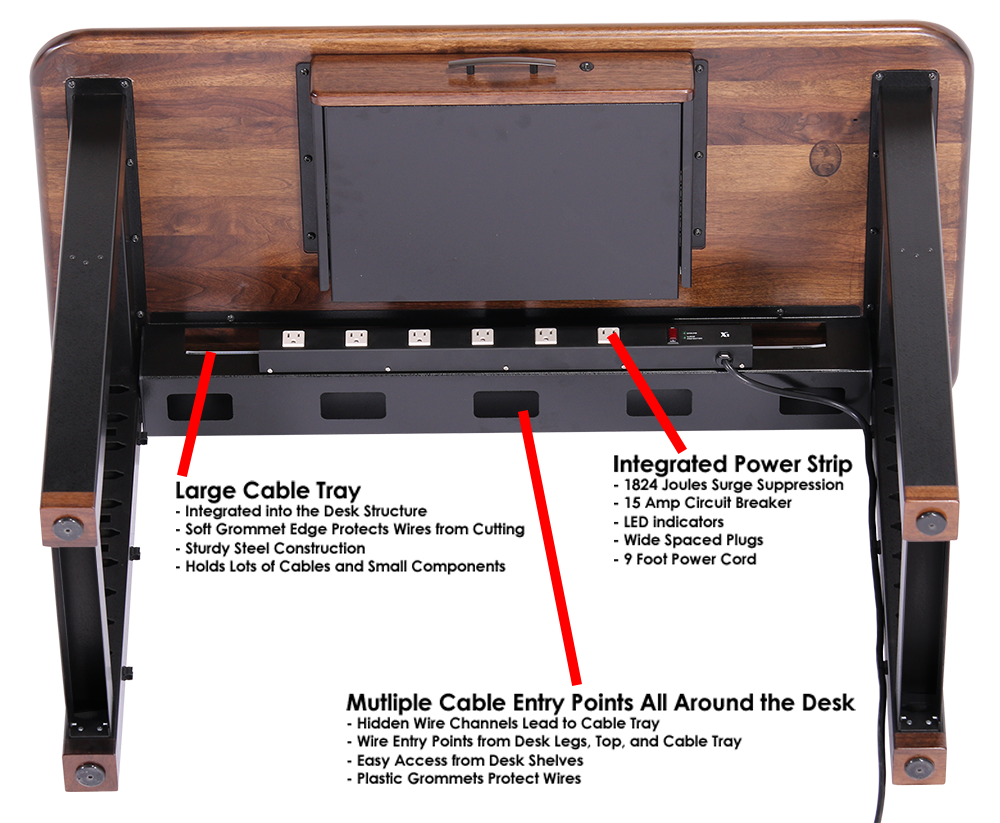 ---
Desk Before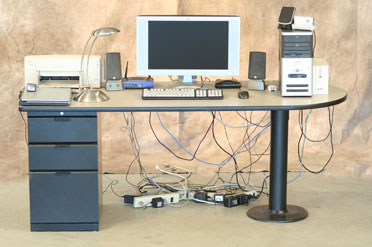 With a tangled mess of cables and power strips.
---
Caretta Desk After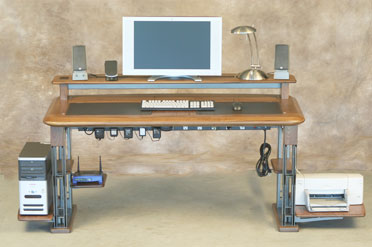 The clean look of the Caretta Desk with the integrated 12 position power strip.
---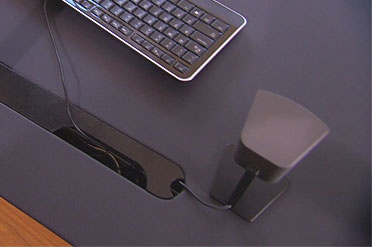 The Caretta Desk is designed with a large cable tray that has many entry ports throughout the desk top and legs.
---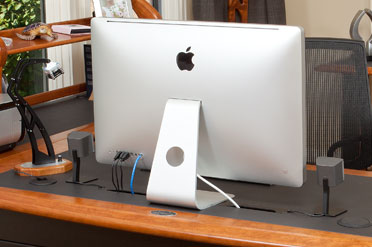 If you have an iMac, all of the cables drop right into the tray through the desk top.
---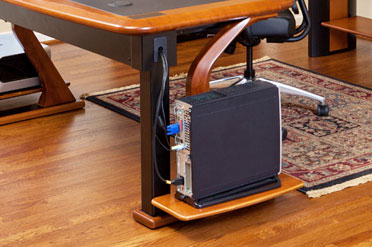 If you have a tower computer, put it on a desk shelf and the wires enter the cable tray through the desk legs.
---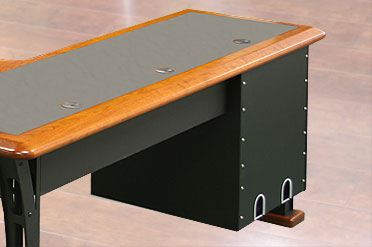 You can integrate up to 12U of rack mounted equipment.

---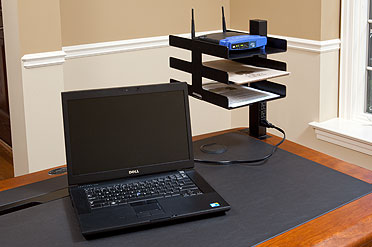 If you have a Power/Organizer Tower, you can store your wired components such as a wireless router in the tray, and all of the wires route into the cable tray. You can also plug in your laptop on the front of the tower.
---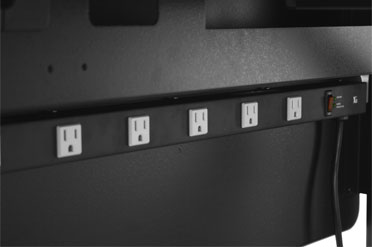 Everything plugs into the integrated 6, 9, or 12 position surge suppressing power strip.
Six, None, or Twelve plug positions
Plugs are spaced wide enough to accommodate transformers side-by-side
1824 joules of surge suppression
Max load 1875 Watts
15 Amp resettable circuit breaker
9 Foot cord
Mounts directly to cable tray for easy access to all power cords
Can be mounted with cord out of left or right of desk
Clips on desk leg to secure cord
"Surge Protection" LED indicates strip is providing surge suppression (green led = surge protection good, red led = surge protection failed)
"Ground" LED indicates strip is plugged into a grounded circuit (green led = circuit grounded, red led = circuit not grounded)
---
Functionality
Caretta completely hides most of the cables on your desk.
Cable passageways are located throughout the desk so equipment mounted on legs and shelves can be connected through the main cable tray.
The optional Desktop Riser Shelf has its own cable tray, which is connected to the main cable tray.
The optional Power Organizer Tower can hold your wired components and brings power plugs right to the desk top.
With Desktop USB Flash Audio Ports, you can plug your earbuds, flash storage devices and phone right into the desk top.
Grommets are included to protect wires.
Main cable tray has multiple access points; through the hardwood covers on the desktop, through openings on the inside of the legs, and through holes in the front and bottom of the tray.
Desk contains a hidden 6, 9, or 12 outlet surge suppressing power strip (protection up to 1824 joules), with plugs positioned to easily accept multiple power transformers. Power strip has a max load of 1875 Watts and has 15 Amp resettable circuit breaker.
---