Integrated 12U Desk Rack
You can rack mount up to 12U of equipment right to your desk.
The 12U Equipment Rack for Return fits under the return desk. The rack is constructed of welded 16 gauge steel on top, bottom and sides. Beveled front corners. Black wrinkle powder epoxy finish. Load capacity: 150 lbs.
Contact Caretta for multiple rack options.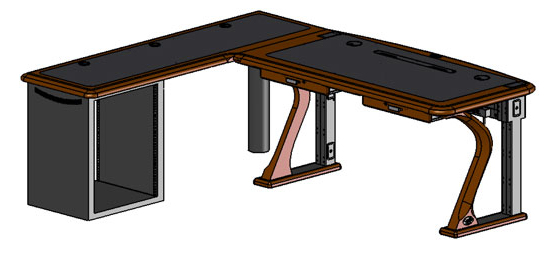 ---
Here are some questions to consider when specifying a rack:
- How many devices will be used in the rack, and what are their U heights?
- What is the approximate Wattage of the devices, to estimate the amount of cooling needed in the rack?
- If convection cooling is not adequate and low dB fan cooling is required, is the back of the rack far enough from the wall that the air could exit the back of the unit?
- Where is the AC power entry point would be in the rack (floor? top? side? back?)
- Does the rack need a power strip? How many outlets are needed?
- Would the power strip need surge suppression? If so, it would need to be plugged into its own outlet. A non-surge suppressed strip can be plugged into the desk power strip which does contain suppression.
- Are rear or front filler panels required? We do have the ability to custom punch and screen panels if you need.
- Does the rack need a front locking door? It can be metal or smoked Plexiglas.