Testimonials
"Table delivered today. Just finished putting it together. Took longer to unpack it than it did to put it together. Packaging was great. QC is awesome. Every screw fit perfectly. Quality is awesome! The "over-my-budget" cost is totally overshadowed by the value received. I could not be happier. Please pass that on to everyone who had anything to do with building and delivering this product. And thanks again to you for the great sales management!"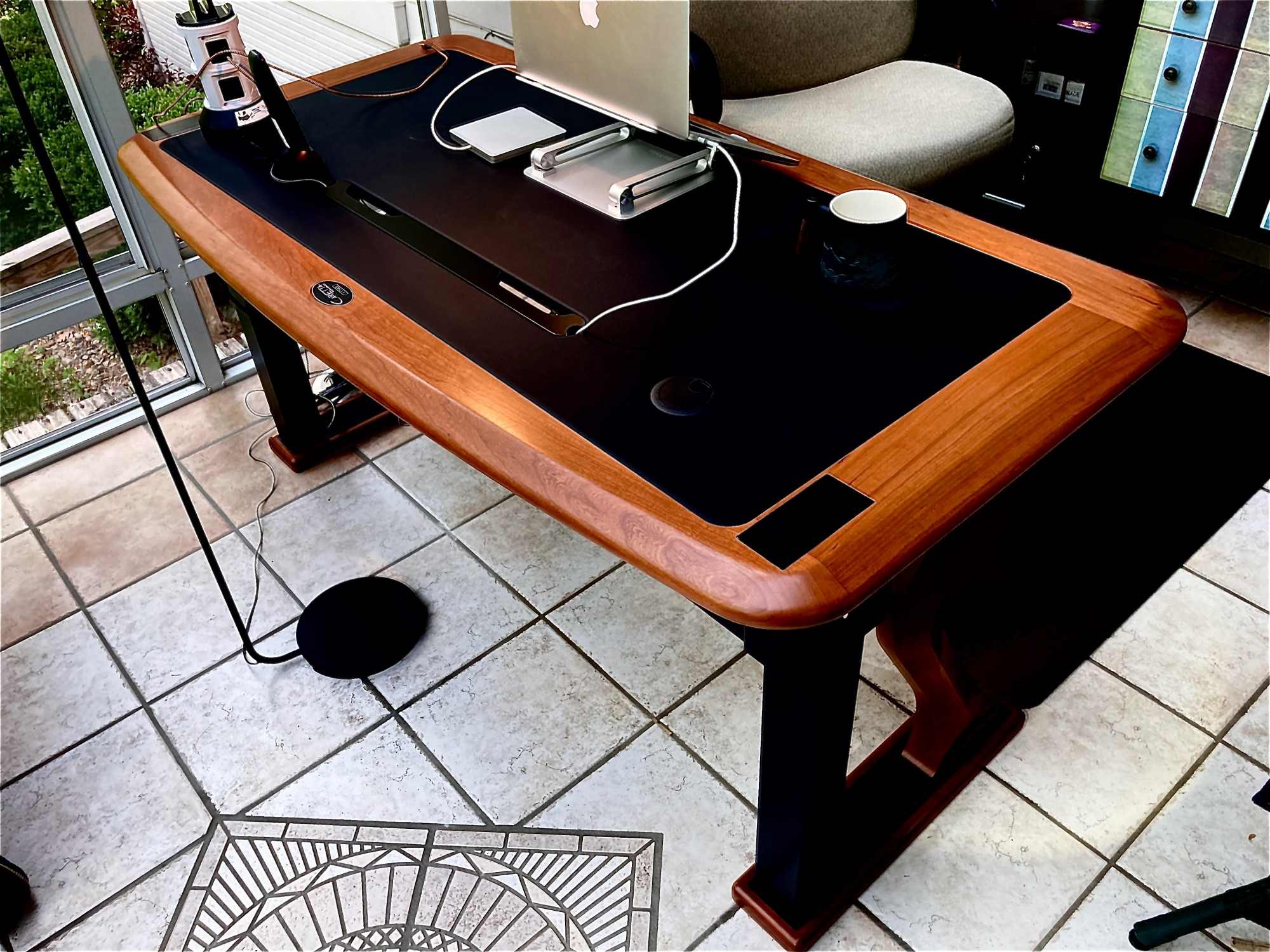 "Got my desk. I'm happy.. Lots of great comments. It's artistic simplicity has impressed visitors."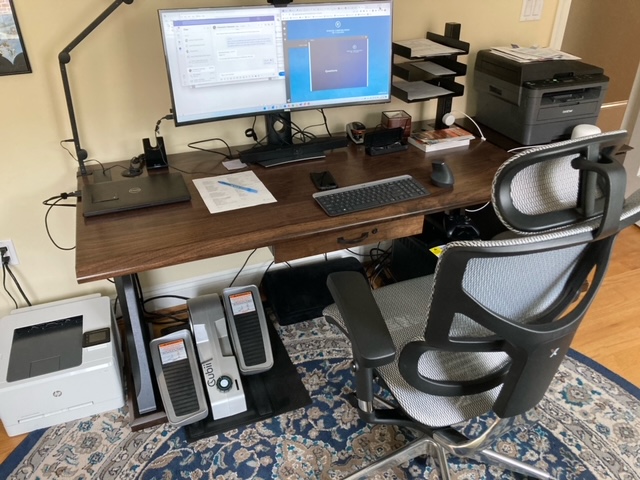 "I just wanted to write to let you know how happy I am with my new custom desk. It's such a great combination of utility and beauty. I'm very desk proud now and keep showing it off to friends who stop by. I have attached a photo to show you how well it has set up. It's such a solid, well-made piece of furniture, and really makes the space work. Thanks so much for all your help with this. "
"I just wanted to let you know how much we like the desk and other furniture your company built and sold to me. Because of a back issue and the amount of time I spent at my desk on computer, zoom etc., I needed a standing desk. I researched for months and found your offering to meet all of my needs – and those of my wife who wanted to make sure what I bought didn't look industrial. My experience exceeded expectations. The desk: was easy to install; is highly functional; has lots of innovative and thoughtful features, and looks great. I highly recommend this to anyone looking for a high-quality standing desk."
"I love this desk, absolutely gorgeous! The cable management cleaned up my mess of cords from my dual monitors, docking station, personal PC, printer, etc. Thank you for all your help."
"Just wanted you to know that I am very pleased with the desk. It meets all my expectations and the design and quality are superb! I decided to invest in this top end unit now that I am working from home thanks to COVID. I will enjoy it for years to come!"
"I love my desk! The quality is great and better than I had hoped."
"This desk is fantastic and wasn't really that difficult to assemble. It exudes art & great engineering !! The motor purrs like a kitten ... Very rich & luxurious feel -- Total quality and everything arrived undamaged as it was well packaged for shipment."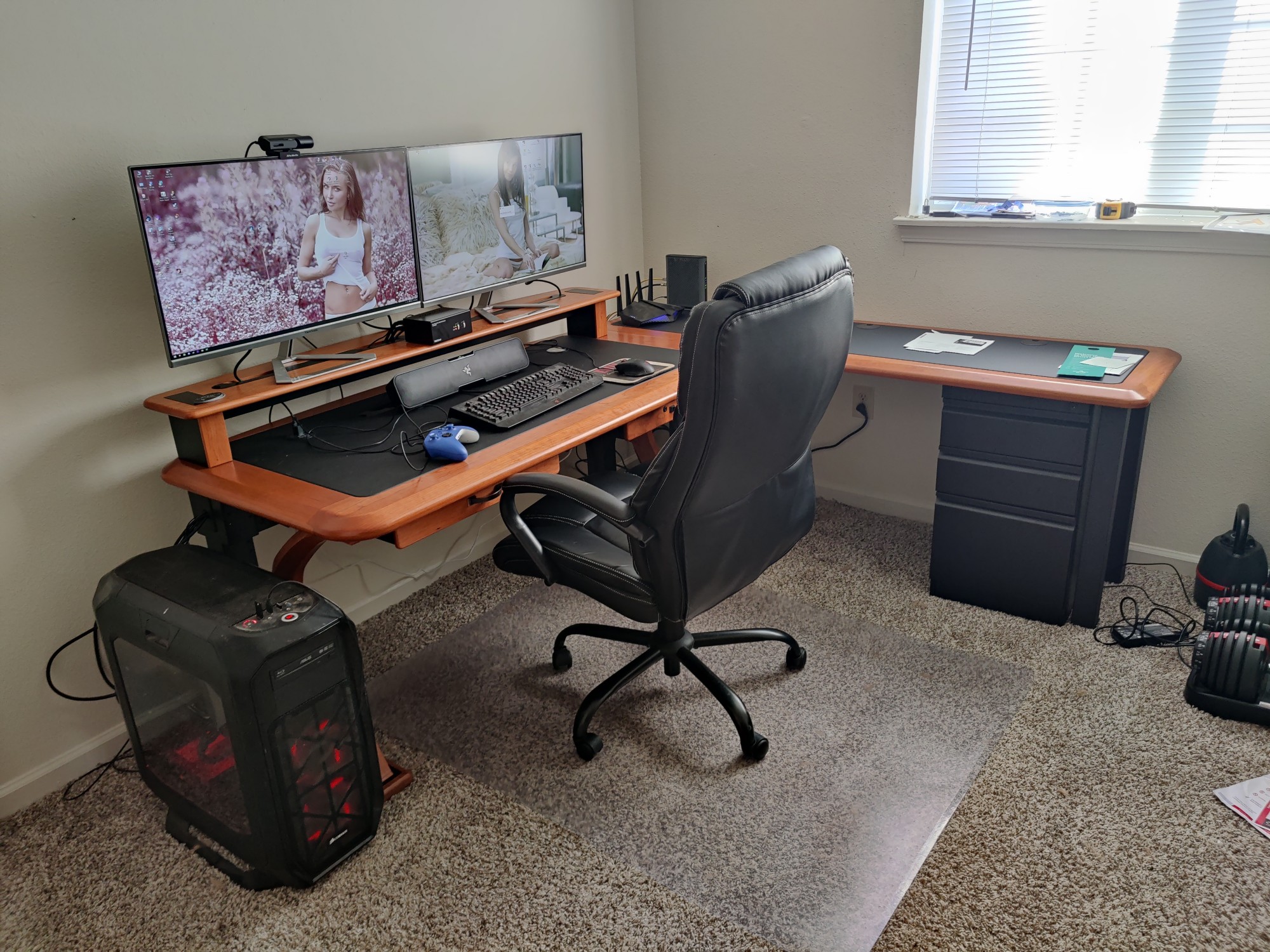 "I received everything and have put the desk together. It is gorgeous and it's making my gaming buddies a bit jealous!"
"We just assembled the desk, we love it!! It is positively elegant. Thank You for your beautiful product and great service."
"Furniture is beautifully designed and excellently crafted. Quality throughout and easy to assemble. Great value when compared to what is on the market today. Customer service is top-notch. Thanks to Andy and the entire Caretta Workspace team."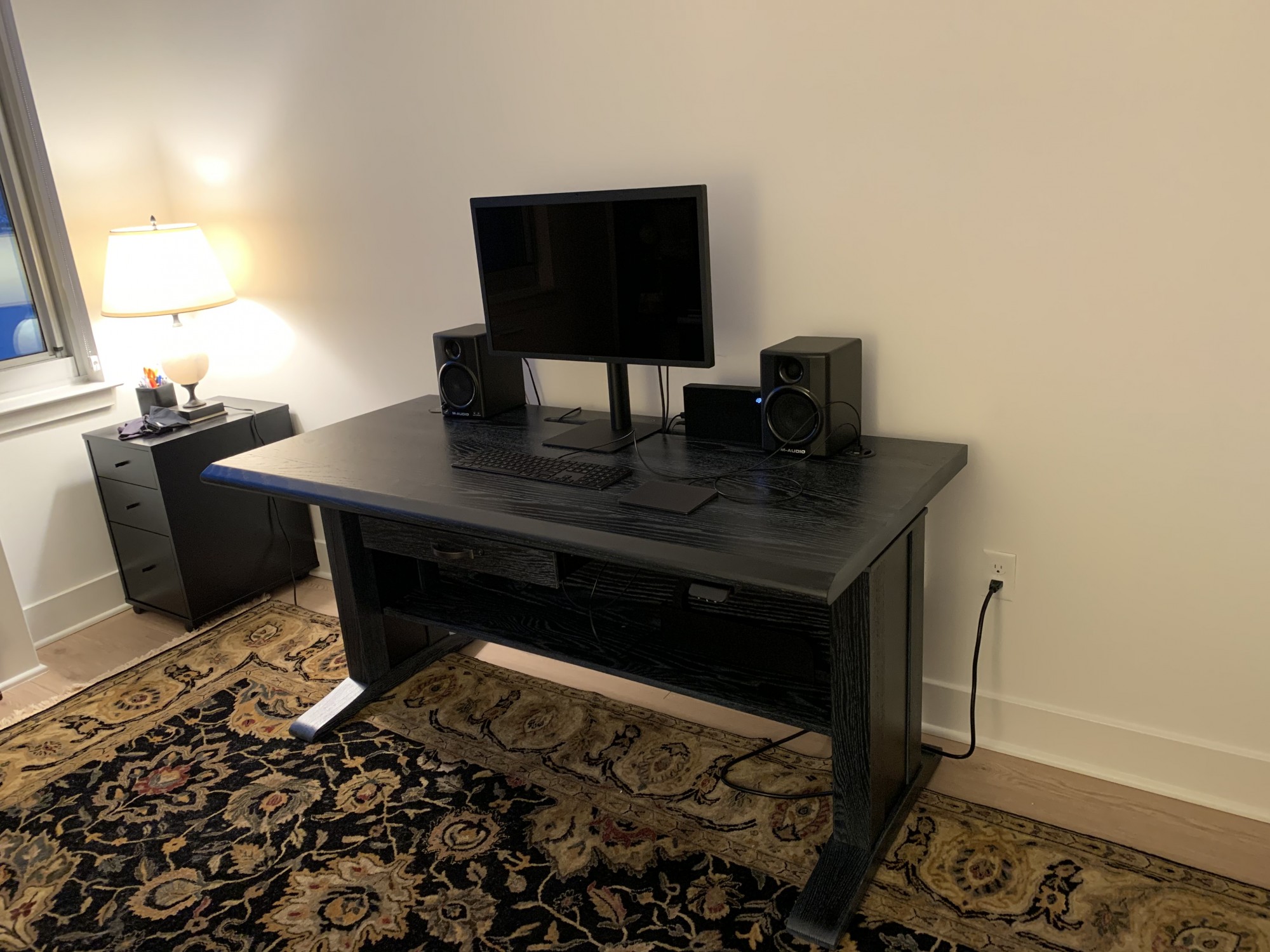 "I have owned Mercedes Benzes and Porsches. This desk is engineered and built with the same passion. And so easy to assemble. Thank you for delivering such a high quality product despite all the challenges faced by many companies such as yours in this pandemic."
"What a beautiful piece of furniture! It absolutely fits my needs. I love it, well worth waiting for. Thanks to you and the entire Caretta team. Could not be happier."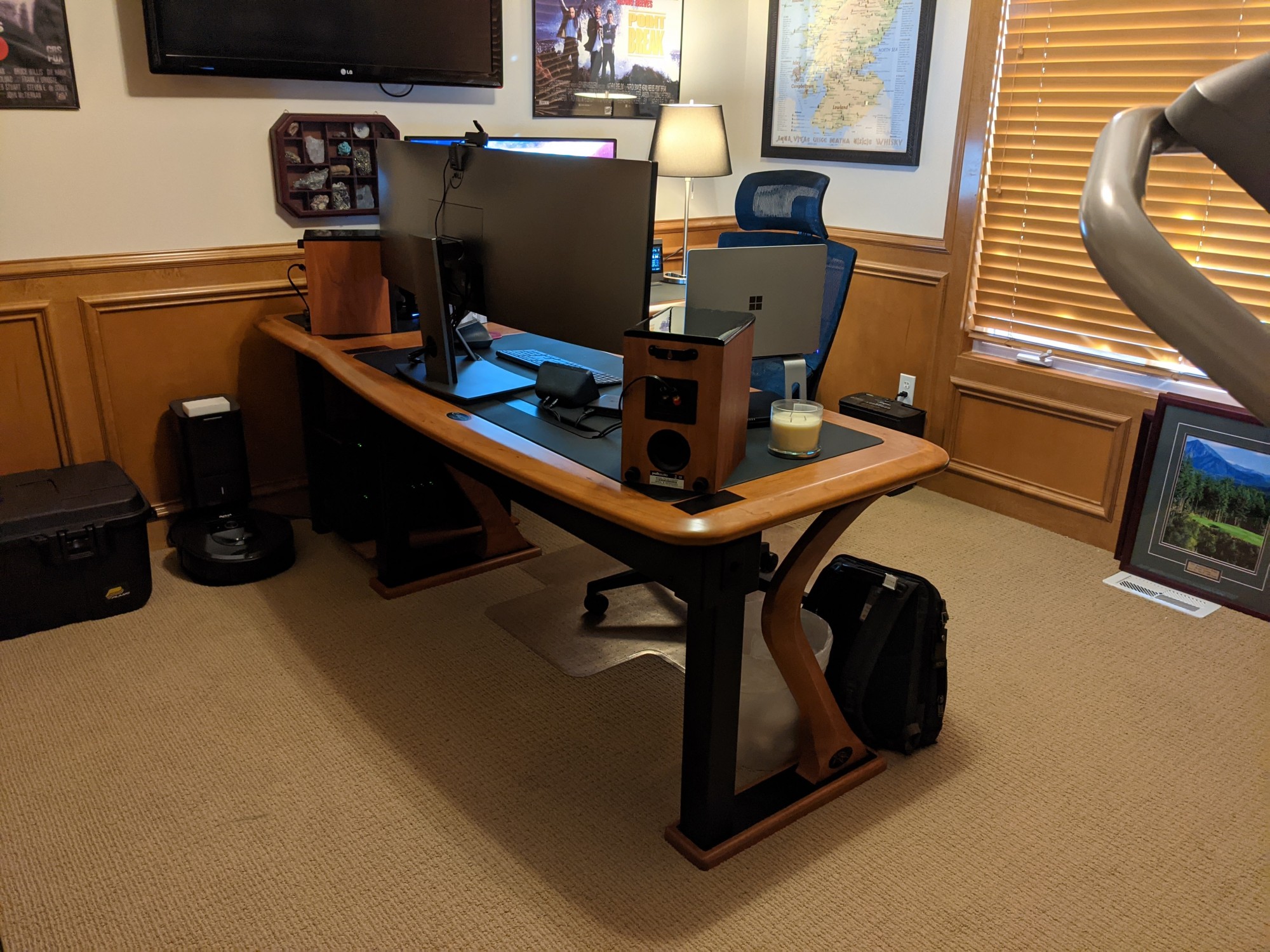 "The desk is gorgeous and assembly was very straight-forward. Really happy with everything. Thanks!"
"My husband and I love our Caretta desk. Our desk was designed thoughtfully from its quiet motor to its clean cable management to the beauty of the wood and leather. The quality is fantastic! Worth the wait & worth every penny."
"Immaculate packaging, like no other I have ever received. Wonderful Hardware and tools, best I have seen in a furniture shipment. The design is even better than expected! The beveled edge is wonderful, easier to type or do anything on the desk. The two drawers, functional depth, location and workability, unparalleled Truly Beautiful, worth the wait!"
"This desk is phenomenal. Not only is the craftsmanship superb, it was easy to assemble with your clear instructions and the addition of the power strip is a major benefit. "
"I'm very happy with my purchase. The whole experience was very good. It only took a few minutes to unbox and assemble and I didn't have to search for my tools to complete the assembly. Pleased to know that we still have great Americans companies producing great products and a great experience."
"The desk went together flawlessly. I'm delighted with it and impressed with the quality of the workmanship. It was worth the wait."
"I wanted to thank you for working with us with getting our Superintendent the desk we were looking for. He is very pleased with his lifting desk, it's beautiful and allows him to work standing and sitting."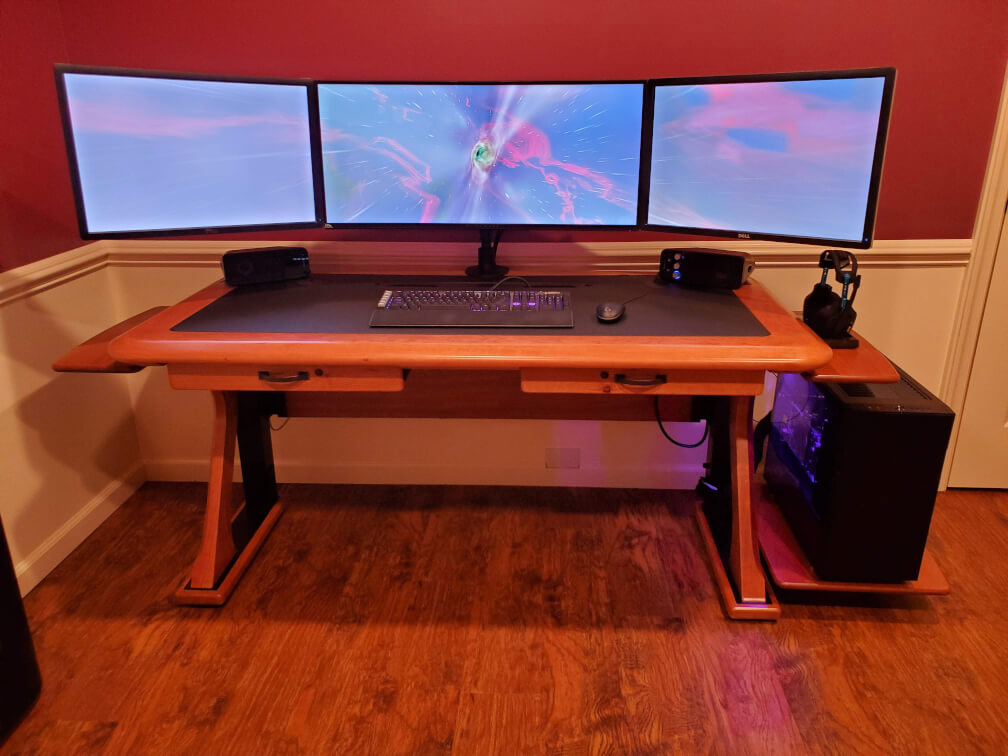 "I am nothing but pleased with the desk, the assembly process, and the customer care along the way. I spent well over a year researching solutions before settling on Caretta Workspace and I can say without reservation that it was worth the wait. All components were well packaged and arrived without damage. The instructions were clear, concise, and easy to follow. The inclusion of the actual tools required for assembly rather than either disposable tools, or no tools at all, was a pleasant surprise. As for the finished product, it is a beautiful piece of furniture that I expect will outlast me."
"The table was delivered on time, actually a bit earlier than expected. The delivery guy nicely brought it to the second floor. Assembly instructions were quite clear. And the table went together smoother and better than anything I can recall assembling myself. Everything fit right, all the screws went in easily, you guys even included the Philips head screwdriver I needed. I'm really impressed with the professionalism there on your company's part. Thank you very much!"
"I had nothing but good experiences purchasing an L-shaped sit/stand Vinton desk from Caretta Workspace. They made it easy to define some semi-custom options (wood type, drawers, CPU mount) when their standard offerings didn't quite include everything I wanted. While I was nervous about shipping damage for an expensive desk, their packaging is a work of art and the desk arrived perfectly. The assembly directions are also very clear, so assembly, while a chore, was straightforward. I would recommend Caretta to anyone."
"I just installed my new Caretta desk for my home office and It's awesome! Was easy to put together, everything is solid and well made, no cheap parts. Very happy with my choice!"
"Received, assembled, and extremely happy; it is a piece of art. Gotta say, it was a complete PLEASURE to assemble. It has been many years since I assembled anything made here at home, and wow !! Outsourcing may be cheaper and money talks, but they have never gotten it right; that's a fact."
"Two years after purchasing my desk, I love it MORE. Sturdy, beautiful, and backed up by an awesome company. I needed a custom grommet cover replaced - two years later, they shipped it to me free. The shipping got screwed up, and the 2nd time I offered to pay. They shipped the piece a SECOND time, free. Incredible customer support."
"My Caretta standing desk is an outstanding example of the combination of quality and functionality. I had the opportunity to tour the facility and see first hand the workmanship that goes into each desk. This piece will be utilized for years!"
"I have owned two Caretta standing desks, and I love this product! For me, it's as much a work of art as it is a functional piece of furniture. Love the soft rounded edges, cord management, lined drawers, and the overall look. Construction is solid, and I appreciate the look of the light cherry wood. Elegant and functional. Keep up the good work!"
"I love my desk!!! I looked at hundreds on-line. My heart caught when I saw this, and I kept coming back to it over the weeks. I live in a small NYC apartment, and I'm an author...so a desk is everything to me. I need to enter a zone when I see it. It has to seduce me, saying, "I'm gorgeous...you know you want to touch me...come here....sit your ass down and write Chapter 4." This desk does that. It gives me pleasure. And, the customer service is excellent--really--talk to Jean and figure out what you want. Also, I can't say enough about the quality and packing and the instructions, complete with the tools, in case you don't have them. Bravo Carretta!"
"Best desk ever. It looks so beautiful. Set up was easy. "
"It was surprisingly easy to build right out of the box. The design is far superior to any other desk I've ever owned!"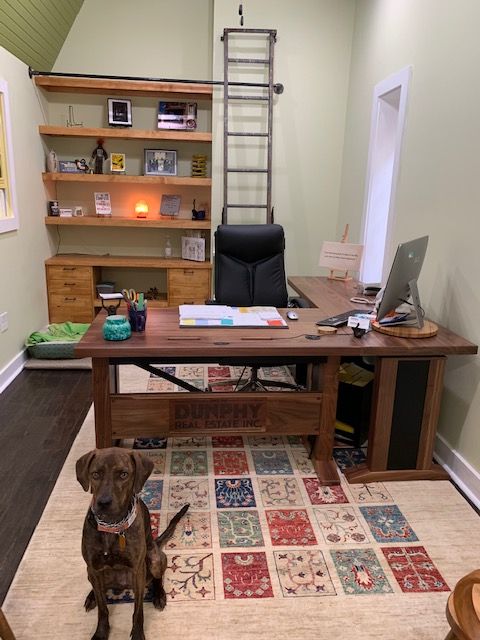 "I absolutely can't say enough good things about my desk set up you created! It is even better than I expected -which is saying ALOT! I really appreciate your patience and continued support and follow up through our construction / build out process of building a house in a house. The whole Caretta Team went the extra mile in helping me design the perfect desk set up for my unique space. I am happy everyday when I walk in my office and know this is where I get to work."
"I am very impressed with the quality of workmanship. Very nicely done."
"I received my beautiful desk, bookshelf and lamp. The packing was perfect and the assembly was the easiest and most convenient experience I have ever had with furniture. I have been raving about Caretta to my friends and family sending pictures and sharing my experience."
"A lovely desk that I labored over purchasing. But you truly get what you pay for and it is a quality investment. It fits in beautifully with our office decor. It is amazing to use. The top inlay is great working on besides an attractive addition. The lower and raising mechanism is smooth and versatile. I am so pleased with my purchase. I added some extras that have proven to be valuable. The separate drink holder and shelf keeps liquids off the working surface and safe from spills. The added plug in for phones etc is a handy feature to have. All and all they have thought of everything to make it a versatile and useful piece of furniture. Could never go back to just the average desk now!"
"I was able to put the table together on Sunday. The assembly went super! My compliments to your engineers/designers for making it go together so easily...and still be sturdy. The table is gorgeous."
"I am all set up and it looks great. What a great product you guys build."
"I love my new desk! What impressed me initially was the professionalism of the packing materials – certainly necessary given the uncertainty surround the shipping process to one's home. Then as I was unpacking, I was impressed with the quality of the materials. I expected good quality based on what I paid, but you never completely know until you have seen and touched it. The assembly instructions were very straightforward and all the parts well-labeled. All of the screws fit perfectly into drilled holes - once again, something you expect but do not always experience when buying furniture that needs some assembly. Once assembled, the desk is sleek and professional. The cable tray/power strip is effective and completely hidden from sight as one would hope. The motor driving the movement of the desk top is smooth, quiet, and fast. Quite simply – a beautiful, well-designed desk!"
"From the time I opened the box I could tell how much effort and care went into the desks based solely on the way the desks had been packaged. All of the materials pointed towards a company that is clearly focused on getting it right the first time as the desks arrived in great shape. Assembly: hands down the best set of instructions I have ever seen. Large font, color photos, well-marked parts, clear step by step instructions that made sense and get this: all of the holes lined up! I didn't have to get out my drill and make holes bigger or leave out a screw or two that wouldn't thread. Everything fit together like a well-crafted piece of furniture should. I also received real tools to assemble the desks. Real tools that I can reuse for years to come instead of some stamped metal wrench that goes into the recycle bin when you're done with assembly. I actually enjoyed putting the desks together! Functionality: We bought the sit/stand desk and the artistic desk. My wife and I are both using them today and they are furniture pieces we are proud to display and use. The sit/stand desk functions flawlessly and the controls are intuitive and simple. The artistic desk is beautiful and the detail and thought that have gone into these desks is obvious. The cord management alone is something to behold. It is so nice to see a company make products they can be proud of. Feedback: I appreciate and applaud the save the turtles effort. I believe everyone should do their part to help our environment. To that end, there is a LOT of packaging that comes with these desks. I have a box carefully packed with the black foam pieces the desks are packed in that are in great shape and I would like to return to you to reuse rather than throw them in the trash. Suggestion for your company: provide a box that will fit all of the pieces (I can't get them all in one box due to some of their sizes) and a UPS label for us to return them to you for reuse. Maybe that's more of a hassle than anything but throwing all of this in the trash is the one thing I feel bad about after my order. There's so much material that I will have to pay Waste Management extra if I throw this in the trash or I could pay to return them to you. I am planning to send it all back to be reused if you're OK with it. Thanks for all the hard work by your teams there. Great product, great service, great job Caretta!"
"I received my desk, and it is absolutely gorgeous! Your loft desk design is perfect. I am in a building phase right now and do not have a proper office space, so I don't have room for a giant desk. But, I still need to do professional level work, which requires professional level tools. Of course, in theory, I could have two sawhorses and a piece of plywood, but I am grateful I am able to afford the purchase of this beautifully crafted desk, and it definitely contributes to the level of pride I have in the process of sitting down to do my work. I knew when I got my samples of wood, and viewed the pictures on the website, that I would buy a Caretta Workspace desk, I just had to wait for the right time. P.S. your assembly is nearly idiot proof, and that is excellent as well, since I had no one to help me drag around a 92 lb box. Fortunately, there were just a few pieces, so getting the box open, and sliding the desk out of the box, without damaging it, was the most difficult part. Assembly was a snap."
"I absolutely love the desk! Everyone that has seen it, is impressed. Glad I found it!"
"It is setup and awesome ...thanks"
"Amazing product. Exceeds my expectations. Assembly very simple, thanks!"
"The desk arrived even faster than promised. Everything was packed with care- nothing damaged enroute. The instructions and parts listing were clear and easy to follow. We assembled in about 30 minutes with no surprises or struggles. The desk is beautiful (I got the Cherry and it is gorgeous wood) and solid as a rock. The mechanism for raising and lowering works smoothly. I see high-end craftsmanship and production standards in every detail—every piece fits exactly, is finished perfectly. This is going to be the centerpiece of my office for years to come."
"My search for an office desk for an office desk began with some thought about the qualities I value most highly. I realized I didn't want an "executive" desk that looked like it belonged in some corner office from the first half of the 20th century. I didn't want ostentatious. I needed a functional desk, and that for me meant a desk which would gracefully accommodate a computer and two monitors. But when I looked at computer desks, I was put off by veneers, by particle board, and by sharp edges which I knew from experience would chip. But I knew I was on the right track. I kept looking, convinced that "functional" didn't have to mean "cheap". And then I found Caretta, and your interest in building something beautiful that worked with how *I* work won me over. Your desks cost more than I'd been prepared to pay. But I paid anyway, because I really liked what I saw. I found the process of assembling the desk to be rewarding in unexpected ways. Over the years I've assembled countless desks, beds, bookshelves, TV stands, etc. Seldom have I had an experience where the instructions were easy to understand and the assembly straightforward. Never has the number of part types been so low (only *two* types of screws—imagine that!). And the two tools you provided were thoughtfully sized to provide easy access to all the areas that required work. The experience of assembling the desk was rewarding in that it brought me into close contact with all parts of the desk. The quality of craftsmanship throughout was superb—even in places where I'll probably never look again. Very few people likely care what the bottom of a desk looks like. But it's evident that your craftsmen do. The quality of workmanship throughout makes me confident that I own a desk which will take me to retirement, and beyond. The reality of this desk has fulfilled my high expectations. I'm flat-out delighted with this purchase, and will recommend Caretta enthusiastically to my colleagues and friends."
"I assembled my desk right away – it took me maybe 20 minutes and was a super easy process. The quality of the desk is excellent and I was really impressed with the attention to detail and fit and finish. Having the screw holes not only pre-drilled but lined with screw threads was fantastic – made it easy and quick to assemble the desk even with arthritic hands! I have recently assembled several pieces of furniture and this was by far the best quality and simplest. We just bought another shelf for the desk for more accessories. Couldn't be happier and will definitely recommend your products!"
"The new desk is just...Wow! Simply elegant. The entire Caretta experience was a pleasant one all around—from the moment we entered your company's doors all the way to the desk's assembly in our home. For the beautiful and amazing craftsmanship as well as the outstanding customer service we had to take a moment to express our gratitude: Thank you!"
"The desk is everything I expected and more. Really high quality craftsmanship - Beautiful! Just what I wanted - it aesthetically adds to the small room I placed it in instead of making the room look too crowded and feel cramped. I also appreciate how all the cords are nicely hidden in the compartment space intended for them. Side note is the perfect packaging and how easy the desk was to assemble - instructions easy to follow and everything fit perfectly - rare!"
"The desk has arrived and I have assembled it with the outstanding instructions. This desk is much, much more than I expected. I Love it!!"
"I have recently purchased the Caretta Artistic desk for my home office. I must say this has been one of the most satisfying purchases that I have made in a long time. As the old adage goes "It takes a village", well the "Village" at Caretta Workspace has done a wonderful job. From the design/engineering stage to the production stage, to the shipping stage and last but not least the sales and marketing team. A large amount of time and effort has been spent by the design team to provide a beautiful, yet functional product. The manufacturing/production group has paid much attention to the details to provide a top notch product. The packaging/shipping group did an excellent job with an abundance of packing materials to protect their product. No matter how great a product is, or how good it looks, if the item arrives damaged, then all the customer knows is that he/she has received a poor product! This is not the case with Caretta Workspace. The marketing group was always "Johnny on the spot" when it came to questions or issues. I know very well that my order was not a very large/significant sale in Caretta's overall sales, yet I still felt that Mr. Andy Tracewell might have been sitting at his computer 24/7 just waiting to respond in the event that I might have a question. Thank you Mr. Tracewell and Caretta Workspace."
"Thanks for the fantastic desk! Not only is the Modern Urban beautiful to look at and solidly built, but it is also highly functional and comfortable. The eased edges mean no more sore forearms while typing, and the height is perfect. The adjustable shelf system on the desk is very versatile such that will be able to optimize the desk should we ever rearrange our study. The capacious wire management has totally eliminated the problem of tangled cables collecting dust on the floor while still accommodating discreet charging stations for all of the kids' electronics. We couldn't be happier with this desk."
"All is well! We received everything, and it all went together just fine. The build quality is all I hoped it would be, and everything looks fantastic."
"My desk has arrived and been put together. The desk is beautiful. Well done…Would also like to acknowledge the fine packaging it arrived in. You can be proud of your attention to detail."
"The loft desk and shelves fit my small home office perfectly, and the quality craftsmanship is quite evident. More importantly, the people at Caretta Workspace care as much about their customers as they do about their product. It has been a pleasure to work with them."
"The Caretta table was delivered in good condition-very well packed for delivery.  Assembly was a breeze.  It looks great in our home office."
" I am thrilled with my Caretta work space. I just installed the "riser" and it just works wonderfully for me. The wood in the product just screams "touch me". It is so soft and smooth, almost "buttery". The leather is perfect and it is so great not to have all the wires and cables hanging behind it or laying on the floor. I would recommend this product to anyone. "
"After decades using a large 5-piece oak corner desk system, it was time for a change. Working from home with multiple computers, my old desk wasn't really designed for computers and the associated cabling… not to mention it became a collection point over the years for storing items I really didn't need. Then I found Caretta, and was intrigued by the designs. I reached out to Caretta requesting a sample from their website. Doing so, I was worried that this action would invited unwanted sales calls and emails. But this is not the case with Caretta. A simple follow up was made by Andy to make sure I received the sample and to see if I had any questions. It took several months before I decided on the desk I wanted to order, but at no time did I ever feel pestered by someone wanting me to commit to a sale. Initially I was hesitant about making this type of purchase, as I was not able to inspect the product first hand. Andy worked with me from start to finish, and was always very helpful with my questions about details, even going as far as supplying photos of parts of a desk from the office to help me visualize features or provide answers. I purchased an Artistic Desk 2, a few extra shelves, a Bookshelf with drawer, and a File Cabinet with wood top. These all look great on the website, but believe me, the website doesn't do their products justice. In person Caretta's products are simply wonderful. The quality, workmanship, and apparent attention to detail in design is exceptional. All are very solid in construction. The wood and its satin finish is amazing. While unpacking the shipment, I kept finding myself actually saying "oh wow" with each box. Assembly was simple and straight forward with very clear instructions, and the tools being included is a nice touch. I was disappointed when I found that the finish on the extra shelves for my order had visible blemishes that occurred during shipment, but that disappointment didn't last long. I brought this to the attention of Andy, and he quickly remedied this issue. Each morning now, I find myself smiling as I walk into my office. I am very happy I found Carretta and made my purchase. I strongly recommend Caretta Workspace products for anyone in search of a desk... You will not be disappointed. "
"Good quality, attractive and easy assembly. Delivered as promised. Would definitely recommend!"
"I purchased a Caretta desk because I knew I would get a piece of art. These desks are made with great detail and care. I love how it is so easy to hide the cords for my computer and other devices. The desk was so easy to put together. I also like the printer and computer shelves that can be easily attached to the desk. I feel like an executive every time I sit at my desk. I searched long and hard for a desk that I wanted to have for a very long time and could be my investment piece and this is it! I also love that Caretta supports the sea turtles!"
"I've been leering at this desk for almost 2 years now and am happy to report it has exceeded my expectations. It's just flat out beautiful. I've looked at many many desks and kept coming back to yours; everything else felt like a compromise."
"Yesterday we finally finished setting up the desks. We really like them and the cord system works very well once everything is threaded through the tray. Attaching the extra shelves was excellent. A great product and excellent service!"
"The combination of style and functionality are great, I'm very pleased with my desk from Caretta Workspace, and glad such products are made in the USA."
"I just wanted to let you know that I've received everything I ordered (desk, file cabinet and bookshelf) and everything looks great! Quality construction, great looks, I will definitely order from Carretta again in the future. Thanks again for all your help."
"I have just gone through a bedroom / home office upgrade and when I was researching for a desk, the Artistic Desk 2 just kept catching my eye. I finally made the purchased and very glad I did. I will have to admit spending this kind of money on a desk was hard for me to pull the trigger. However, the quality, workmanship, packaging and assembly is unparalleled to any desk I have ever seen. This desk will be with me for a very long time and was worth every penny. It fits my room as a piece of art as well. The cable management is pretty cool too!"
"I have put the desk together and I am very pleased. All of the parts were there and in great shape and the assembly was straightforward. I love the look. I was able to hide all my wires! The desk drawer looks great but it does take a few inches of clearance, making my fit a tight one with my wheelchair. Overall, I am very happy with the purchase."
"The desk is beautiful! I am very pleased. The assembly was the easiest I have ever done for a desk that was shipped. The instructions were very clear, and providing the needed tools was a nice touch. I will probably be ordering more from you for my office in the future. Thanks for providing an excellent product and for your great service too."
"It is perfect! Breathtaking and it is perfect for my desktop computer (which has two monitors and multiple sensors which mean tons of cables...). I'll buy it again. Thank you."
"Desk arrived as scheduled and I am so pleased with the quality of this MADE IN USA product. Furthermore, the packaging was more than adequate. I now understand your confidence in commenting that you do not get many calls about "damaged in shipment" due to inadequate attention to packing. CARETTA has my vote as a company that does business the right way: quality product and respect for the business/customer relationship. Thank you."
"I highly recommend the Caretta Desks. We purchased the stand up desk, and it is functionally excellent, and aesthetically pleasing. But just as important, the company delivered exceptional customer service to address a problem we encountered due to our installation error!"
"We purchased the corner artistic desk after seeing it on the web. We live in Washington State and were a bit nervous about ordering the furniture sight unseen. But the customer service was great and the desk and file cabinets arrived when promised. The furniture was packed well. The instructions for assembly were straight forward and easy to follow. The desk is beautiful. We especially appreciate the design features that make hiding cords easier. We could not be more pleased with our purchase. "
"We were very impressed with the quality of the piece as well as the responsiveness of the staff to ensure the item was delivered in time. "
"I was pleasantly surprised by how well manufactured and put together your desks and conference table is. Not often you find real quality any more."
"A few days after I assembled the Caretta desk, I also received and assembled a cheap shelf rack made in China. I have some additional feedback for you based on this experience. I appreciate that Caretta's materials, upon being unboxed, did not have a noticeable bad odor. I didn't really think anything about that until later when I opened the box from China, which resulted in the immediate smell of off-gassing chemicals. This smell triggered hours of sneezing, and left a lingering unpleasant chemical smell in the room for a few days. I appreciate that Caretta's packaging materials were clean and simple. The Chinese rack used a cheap, white, pressed-pellet foam that had disintegrated into a million tiny bits. These bits flew all over the place and stubbornly clung to everything via static electricity, making cleanup extra difficult. I appreciate that the tolerances of Caretta's parts were neither too tight nor too loose--they were perfect. On the Chinese rack, I experienced supposedly identical screw holes that were both too tight and too loose. Most were too loose, resulting in major parts that are visibly not aligned square. Some were way too tight, and I could tell I was "making my own threads". I appreciate that I literally could not find even the tiniest of defects anywhere on your desk and accessories. On the Chinese rack about 40% of the parts have some sort of cosmetic defect, the worst being missing/uneven chrome application on a critical decorative part. The Chinese rack also had several defects in the paint that was applied. Apparently paint defects are so common that fixing them is literally one of the steps in the installation manual, and a paint pen is included in the parts kit. I know that sounds ridiculous, but I'm not kidding. I believe that shelf rack is the last piece of furniture I'm buying from China. I appreciate that you included quality tools and that the main desk only used one bolt size. I suspect there are many other little, thoughtful, positive things that went into the engineering of your desk, but that I'll never notice because they simply weren't a problem and everything worked well. (I did notice the T-handle Allen wrench was ball-end so I could use it at an angle.) I have to say that assembling both your Caretta desk and the made-in-China shelf rack within a short period of time made for a dramatic juxtaposition of epic proportions. The differences in toxicity, materials, craftsmanship, design, quality, installation, packing, tools, and support are "night and day". Actually, that doesn't really express the magnitude--it's more like "black hole and supernova"."
"Very nice design along with ease of assembly. I really love your product."
"I wanted to express how pleased I am with our new Caretta desk! It is very well made and solid, and looks beautiful. I lead the library's staff wellness committee and this year's motto is "Stand Up for Your Health!" Thus, we've been encouraging staff to find ways to stand more and sit less. I had been using large reference books to prop up the keyboard and monitor to make the desk taller, but that became a bit cumbersome and looked kind of silly. I was thrilled that the library director allowed me to purchase this beautiful stand-up desk. We use it out in the library as part of our reference desk service point. The rest of the staff really like having the standing option and we've had many compliments from patrons too."
"Assembly was relatively simple and everything went together without a problem. The desk feels solid and I am very happy with the appearance and craftsmanship of the product. After doing a lot of research, I think I made the right choice."
"Got the desk assembled within 20 minutes and had my computer hooked up with all the cable management done in another 20 minutes. Could not be happier with the build quality and look."
"Great step by step instructions for desk assembly. Assembly was straightforward with all the needed tools. The shelves are great as they keep the desk clear of equipment clutter. Cable management is awesome and allows me to face into the office without having to look at ugly cables.I really like how the dual monitor arm attaches to the desk. My monitors are secure without compromising the look and feel of the desk. Drawers open and close smoothly. Nice instructions on wood and desk inlay care and maintenance."
"I'm very happy with the desk, I believe it's what I've been looking for. I've researched for some time and am glad I went with your product. Assembly was pretty easy, once together, I have to say, it looks pretty good. I've had it now for a little over a week now and it definitely fulfills my needs. If anyone is in the market for good looking, fully functional standing desk, I'd recommend Caretta."
"Awesome desk and furniture. Loving the stand up computer station."
"I am proud owner of Caretta Standing desk - 1. Price may seem high but it's very high quality and very well designed desk. I am very happy to see it's "Made in America" and owner/designer takes great pride in their work and craftsmanship. They handle the online order with efficiency and customer focus - available to answer any question/concern via phone or email. Desk comes with all the detailed instructions and tools to assemble."
"The desks arrived. Assembly was relatively simple and I am very pleased with the form and function of the desks."
"Caretta Workspace is a gem, a quality trustworthy place that delivers luxury and beautiful craftsmanship. They have impeccable follow up and don't try to sell you everything under the sun, yet you want it all from them because it's so good. They also go out of their way to recommend comfort set up options so that your new space is comfortable for a lifetime. Thank you Caretta team for making this a wonderful experience."
"One very happy customer! "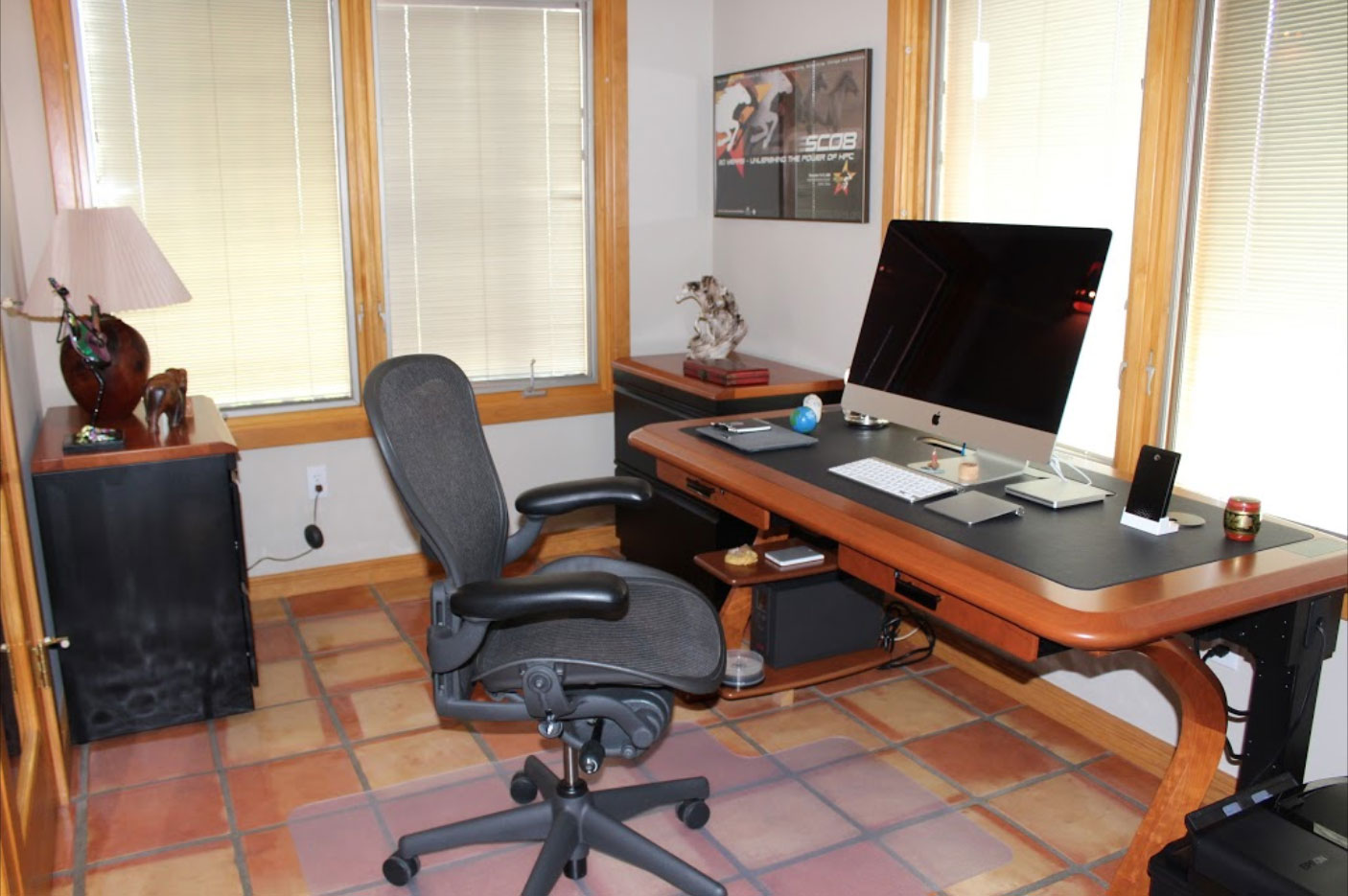 "Everything looks beautiful. Your pieces are truly of high quality and beautiful design and craftsmanship. Form and function! And from a technical point of view, I love how all those wires and cables disappear!"
"I love my new desk – it arrived on Thursday as promised and I assembled it that night. Assembly went well and was able to start using the desk on Friday!! The engraving is beautiful and the overall desk is a piece of art. The filing cabinet had arrived on Tuesday and slid right under the desk. Thank you all so much! "
"Finished assembling the desk yesterday and just finished placing the computer equipment. It looks great which is exactly what our GM said when he saw it. The stain on the wood was perfect for the area. Thanks again for a wonderful product and great service."
"The color is perfect, the desk is beautiful. I absolutely love it. Thanks again for all your help. This is a beautiful desk!"
"Great products and great customer service! I have never purchased anything before with the quality and quality control of your products!"
"Absolutely love my desk! Assembly was a breeze and cable management is amazing. Thank you! "
"I got the desk assembled (not quite in the 12 minutes your guys said they would take, but pretty quick nonetheless!) and situated in my office, and my first impressions are that I LOVE it. Not like it, LOVE it. I think I was more productive Friday afternoon after I got this masterpiece installed than I was the entire week up to that point. I really like working like this, it seems."
"It's all assembled and I love it. It was boxed up well and the instructions for assembly were very clear. It's solid and looks great!"
"Just a note to let you know it all went together flawlessly. Much more engineering in it than I had expected (fit and finish). Very happy with the choice and excellent value."
"Took delivery of the desk today. What a great surprise to get it in 3 days! Love the desk. I had been looking at the desk for 9 months, finally pulled the trigger. Works well in my home office which has a cherry wall built in. "
"The desk arrived on Monday. Setup was easy and it is absolutely beautiful. Really appreciate everything. "
"I received the artistic bookshelf and it assembled very easily. It looks terrific in my office and have had many compliments. Thanks very much."
"Everything finally arrived and the desk went together nicely. I'm very happy with the result and everyone in the office loves it."
"We assembled it last night and it's so beautiful! I cannot thank you enough for all your help. "
"I received your desk and conference table today, and set them both up this evening. I am thrilled with the quality of the design, the finish, the precision manufacturing process, and the fact that both products are made in the USA. Thanks for your quality service, and the quality product. Looking forward to becoming a regular Caretta customer, and referring others to you, as well."
"I have had my standup desk for almost three months now and could not be more happy. This desk has helped alleviate the fatigue I was having at the end of the day and end of my work week. Thank-you for improving the quality of my life through better workplace ergonomics."
"We received the desk and assembled it without any issues. We set it up in our Managing Partner's office and he absolutely loves it. We were also pleased with how quick we received the product and the helpfulness of your company."
"The desk arrived last Friday and it went together perfectly. It is extremely beautiful and I am very pleased!"
"Desk received and it's beautiful....exactly what I was expecting. I have had a few people ask me about it and I'm trying to refer some customers to you. Packaging was amazing and assembly was quite easy....even for me! Thank you for your follow up and excellent communication through the process."
"I have been meaning to email you to say how happy I am with my new desk. First, you and your company were excellent with ordering. I received my desk within days. Then the directions were easy to follow and the desk went together like a dream. This was great because we had company coming, and I figured I had waited too long and would have my living room (and office) completely dismantled. But it arrived and went together so smoothly that I had the job done in a quick afternoon, including rewiring my system. And the desk is just beautiful. Since it is very visible in my home, I wanted something that was more a fine piece of furniture than just a work desk. Well worth the extra cost over other stand-up desks I had found. And the ability to manage wiring and cords is really great. In addition to the fine wood and beauty of the desk itself, the cord management has really transformed my workspace. And something I hadn't considered (or looked for) in my first stand up desk -- but standing combined with better posture and the beauty and efficiency of the desk seems to also improve confidence and productivity. All in all one of the best purchases I have made."
"Love your desk. It is beautiful and extremely well engineered."
"I have waited a few months to write a testimonial about our new Caretta Type 21 Computer Desk. I wanted to see how it was to live with and how well it was constructed. It is a very high quality piece of furniture. It is stylish and functional at the same time. Its cord management system is very well thought out and the only cord visible is the power cord for the desk itself. When assembling the desk make sure you have the power cord coming out of the dean on the side nearest the power source. We didn't initially and had to reverse it. The two shallow drawers are lined giving them a luxury touch. On the desk top is a Caretta medallion with the number of the desk on it. We also got a Power Organizer Tower that has three power outlets in it. There are three shelves on the tower that are great for an in/out box or placing your iPhone/iPad for charging. We highly recommend these Caretta products for their style, quality and function."
"My wife and I wanted to tell you and the team at Caretta Workspace what a great customer experience we had with your company. I am a retired VP of Marketing (Macy's) and my wife is the Chief Marketing Officer of a health services company. We know what it takes to provide excellent customer service and great products. You don't always find both in the same company. Sometimes you don't find either! When we began to plan the renovation of our home office, we knew we wanted new office furniture that had both style and functionality. The Caretta Desk 21 was that perfect combination. We added to the look and functionality by getting a Contemporary Hutch for each desk as well. Rather than standing each Hutch on a table, we placed each by the side of our desk. The Desk 21, with a hutch and one of your cherry wood topped file cabinets turned out to be the working solution we were searching for. My wife uses a Mac Pro with a 23-inch monitor and I use the 27-inch iMac with a number of peripherals. The large cable tray and the 12 power sockets are really excellent for reducing cable exposure and maximizing peripheral hook up. I would suggest to other customers that they order some Velcro wraps to make nice bundles of power cords that can be easily arranged in the cable tray. We really loved working with Andy in Marketing. It was always about "What can I do for you." I will say that we had a few small wrinkles in the shipping of our hutches, but Andy and Caretta always served the needs of their customer. We were very much impressed."
"I highly recommend Caretta. They are highly professional and work with you to provide a customized product. I am using their workspace in my office and soon to be in my courtroom. I have not seen a better product and am a very satisfied customer."
""We were looking for just the right desk for our coaches in the new athletic complex. We wanted something that incorporated strength, beauty and functionality. The Caretta Workspace was exactly what we were envisioning. It not only captured what we wanted but also brought the added dimension of technology and adapted it in an amazing display. The Caretta Workspace is cutting edge.""
""The Caretta desk unit provides the perfect combination of style, functionality, and craftsmanship. And it does so at a price point well within our budget.""
"The beautifully designed and crafted computer desk has added another visually significant element to our contemporary home. The combination of the natural color of the cherry wood with the black metal creates a distinct statement."
"As the founder of a company that provides one of the largest e-commerce payment platforms in the world, you can imagine my home office has a lot of computer technology requirements. My Caretta desk does a spectacular job of concealing all of the wires and cables in a beautiful solid hardwood desk. I have combined my desk with Caretta shelves and tables to create an office that is both warm and modern, and is a show piece."
"We assembled the desks last Friday and the install went very smooth. We are absolutely thrilled with the Caretta products and the workmanship is fantastic. We have natural finished cherry trim, doors and cabinets throughout our entire workspace. The match with our existing wood is spot on."
"It really is a beautiful desk!"
"I don't know how I survived all these years without hideaway cable management!! It's really great. I'm really appreciating all the cutaway spots in the legs and cable tray, they add so much flexibility for cable routing."
"We are fully set up and functioning. You have a great product and we are looking forward to using this desk for many years!"
"We received the boxes Friday and put everything together yesterday without a hitch. Looks great in our study -- thank you. Very impressive product, ease of assembly, and good instructions, too. We are very happy with our purchase."
"It is amazing...exceeded my expectations. Looking forward to getting used to it and deciding what add-ons and accessories I'll need."
"I looked high and low for the right furniture configuration for my home office. One of my last resorts was to have an Amish outfit build a unit until I came across Caretta Workspace. To my good fortune, there was a brand new smaller sized desk that configured with the existing components matched my needs perfectly. After the new furniture was delivered and installed I couldn't be happier with the end result. My office is more functional and looks like an interior decorator had designed the space. I would recommend Caretta Workspace to anyone."
"Caretta Desks Can be found in some of the most beautiful homes, lofts and studios in America"
"I'm pleased to say that the packaging was both logical and extremely secure. The assembly instructions were very clear. The Desk and Return are assembled. The unit is a work of art."
"I was pleasantly surprised to receive the items in a very timely manner. Everything went well and the assembly/setup was quick and without complication. Desk (and Side Table) met all my expectations… I'm very pleased with the design and quality. I would have no reservation in recommending your products to others."
"I assembled the desk and have to say I am very happy. The logistics and every other part of the transaction were very accurate and well organized. The desk is even more impressive in real life than I had imagined. Truly want to congratulate you on a quality product and service. It is going to be the centerpiece of a home recording studio Iam going to be starting to put together."
"All my friends that have seen it say, "I love your desk!""
"I assembled everything this past weekend. I am very impressed with the workmanship, how easy it was to put together and fact that you provided tools! It looks great and I am very very happy with it, thanks."
"We have purchased 3 desks from Caretta – the quality, ease of order and the great communication from them is first class. I know our company will continue to use Caretta Workspace for future purchases!"
"We are extremely happy with the desk and I wanted to tell you how impressed I am with the quality of it. As a matter of fact, everything from the packaging to the assembly exceeded my expectations. It's really good to see that kind of quality coming from an American company. You do a great job and have an excellent product."
"It feels already like I own this wonderful piece of furniture for years (how did I ever do without it?!) plus, it fits so well to the rest of the furniture. The table is really well done, feels great, is just beautiful and very very practical!"
"Beautiful desk, well packed, easily assembled. No complaints."
"Everything was great. Thank you so much. We love the desk!"
"Everything is excellent. I could not be happier. All was assembled in an hour and now being used as a productive workspace."
"It arrived in great shape and is installed and holding the monitors that I am using right now. I love it. Love the desk also."
"Thank you so much for the great service. It was amazingly easy to assemble!"
"Caretta Workspace is all about Customer Service and Quality. From ordering to shipping and assembly, they are 1st Class. "
"The table is perfect! We love the craftsmanship and the care with which it was shipped. Its wonderful, we couldn't be happier!"
"Just wanted to say my Carreta Workspace is beautiful! The file cabinet arrived as scheduled and everything is complete and fits together perfectly. Thank you for the wonderful design and excellent craftmanship. It's a pleasure to work at my new desk."
"The furniture is beautiful. No damage and easy to set up. Those were the best packed pieces I have ever received. It's clear that your company takes pride in their craftsmanship, and our CFO loves his new desk!"
"Thank you for the fantastic service and a great product!"
"I am very pleased with the desk and had no issues putting it together. I would like to in the future to purchase one for my home, that is how much I am impressed. I appreciate you working with us. Thanks again."
"I am sitting at my new Caretta desk this morning and LOVING IT! You can't imagine how much my attitude about work has improved by having such a beautiful piece of art to work at. I am filing away the paperwork and wanted to give you some feedback about the assembly process. Two of my friends came over on Thursday afternoon and we had the desk/return assembled in just under 90 minutes. The packaging was impressive (5 boxes!) and everything arrived in perfect condition. It's obvious you folks have figured this out. The assembly instructions were clear and easy to follow. Thank you for specifying "Do not remove…from the box." Again, great packaging design to allow for assembly in-place to insure the top pieces didn't get damaged during the process. Appreciate that your instructions are printed in color! It makes it so much easier for those of us that have trouble with three dimensions drawn in two. Every piece lined up perfectly! It really helped that you provided slight 'grooves' for placement of the legs. I HATE to sit looking at a wall so my desk is positioned facing out into the room with the far end of the Return Desk against the wall. In case you haven't yet realized it, I'm all about cord concealment in my new office space. That's how I first found your product two years ago – I was Googling for "desk hidden cords". The image of your desk came up at the top of the search and nothing else even came close for me. At that time the price was beyond my budget but I knew this was the desk of my dreams! I'm so glad I waited and saved until I could buy this desk – it may well become a family heirloom! Thanks again for an excellent product and a wonderful buying experience!"
"I was able to put the desk together yesterday with just a little help from my 77 year old mom! It is so easy. I just love the way the desk smartly hides my many chords, it's genius. Since it's such a beautiful piece I decided to turn my dining room into an office to show it off. My office upstairs is just going to be a chill out room."
"I think the desk is elegantly designed, finely crafted and extremely functional. I could not be more pleased with it."
"The desk is beautiful and a real testament to the craftsmanship at Caretta. From start to finish this has been one of the simplest and enjoyable processes with a retailer. Packaging was fantastic, assembly couldn't have been more straightforward and simple, the desk fit together perfectly ... it was a real pleasure!! I'll be recommending your website to family and friends."
"The setup was super easy. I really like it and it looks fantastic in my office. Thank you for your help!"
"The desk is beautiful. Everything went together perfectly. Thanks! "
"I just wanted to thank you for taking such good care of us during the entire purchase process. The quality of the service was equal to the excellent quality of your products."