New Caretta Wood & Finish Options
November 21, 2019
Oak is one of the most timeless woods in the history of furniture making. It is both hard, yet relatively easy to work with. Its long flowing grain patterns are distinctive and beautiful. It's naturally light in color and takes stains and finishes well.
As styles and tastes come and go, so has the popularity of oak. Did you have light wood cabinets in your house? How about a country kitchen or round dining table with lion-claw feet? Chances are they were oak stained with a light yellow or honey finish.
Oak has now come back into style in a big way with a new (old) look.
At Caretta, we are committed to bringing you the latest in function and style. That's why we are unveiling three beautiful wood finishes for our new oak hardwoods! We use only the finest American oak, grown locally and forested sustainably, to create each and every piece we make. Each oak board is carefully selected for its unique grain pattern to make the most striking visual look.
Weathered Gray Oak
Like a storm cloud, our weathered gray finish offers cool, sophisticated tones which pack a powerful visual punch. The whitewashed look reveals each line and swirl of the wood grain, allowing the beauty to shine through.
Aged Brown Oak
The aged brown finish brings forth the rich, deep reds and chocolaty browns from the oak. Grain patterns are highlighted in a beautiful balance of dark and light browns.
Cerused Black Oak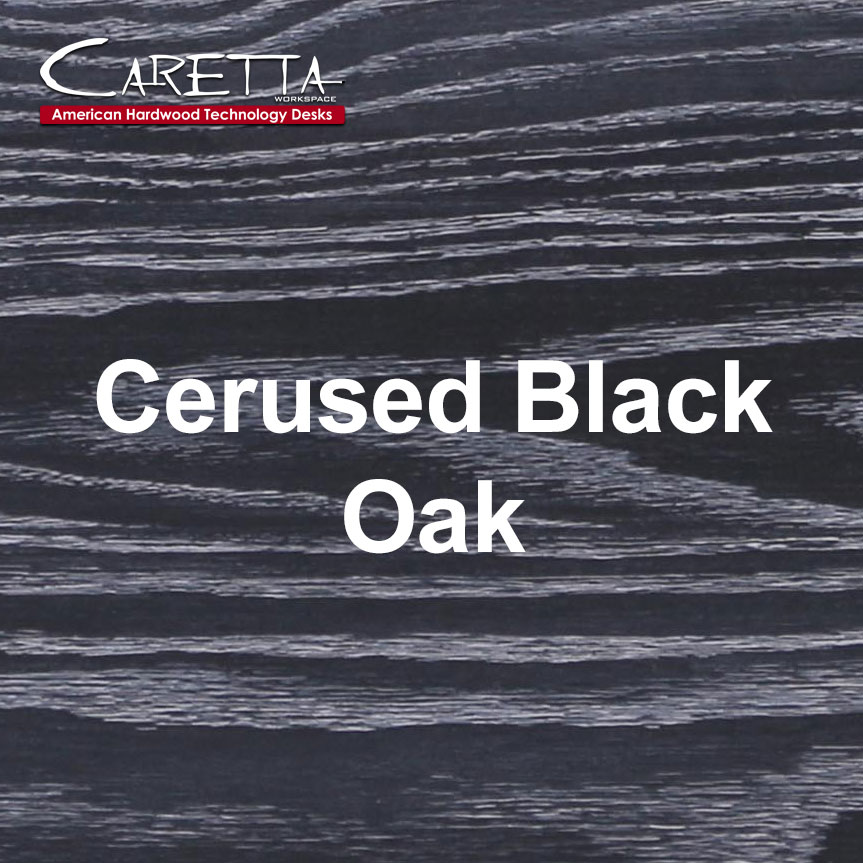 Cerused Black, is a combination of a dark black base with a light gray hand worked into the grain. This gives the wood a striking visual contrast that will command attention in your office.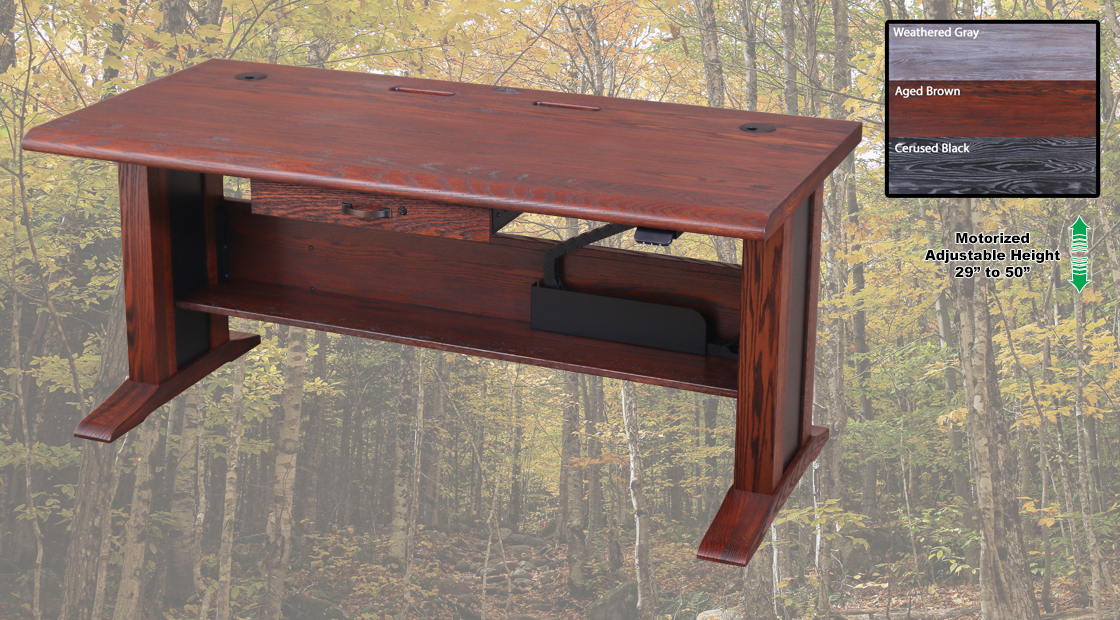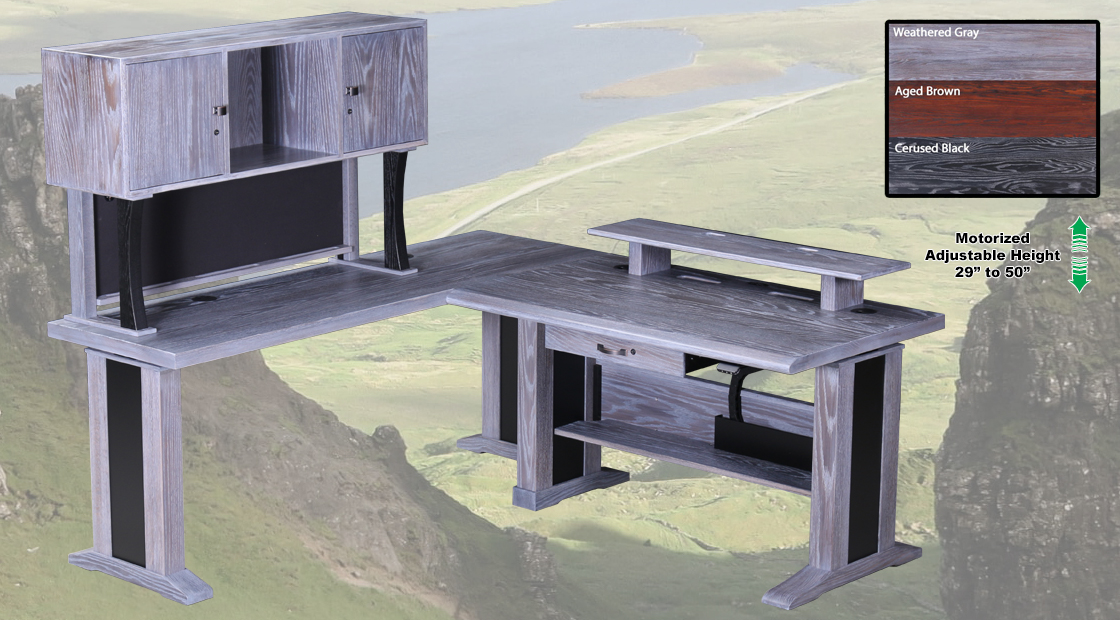 Mass-produced desks are rarely made from solid wood and are therefore finished cheaply. Without a beautiful piece of wood to highlight, these other desk manufacturers resort to finishing with thin faux-wood veneers or they paint the desk to mask what is underneath. Cheap desk materials and finishes can crack, bubble up, or discolor and ruin the appearance and functionality of the desk.
A true solid hardwood desk with a proper finish will withstand the demands of your office life while retaining its beauty. And with three unique stains for our new oak, you're sure to find the perfect aesthetic for your office.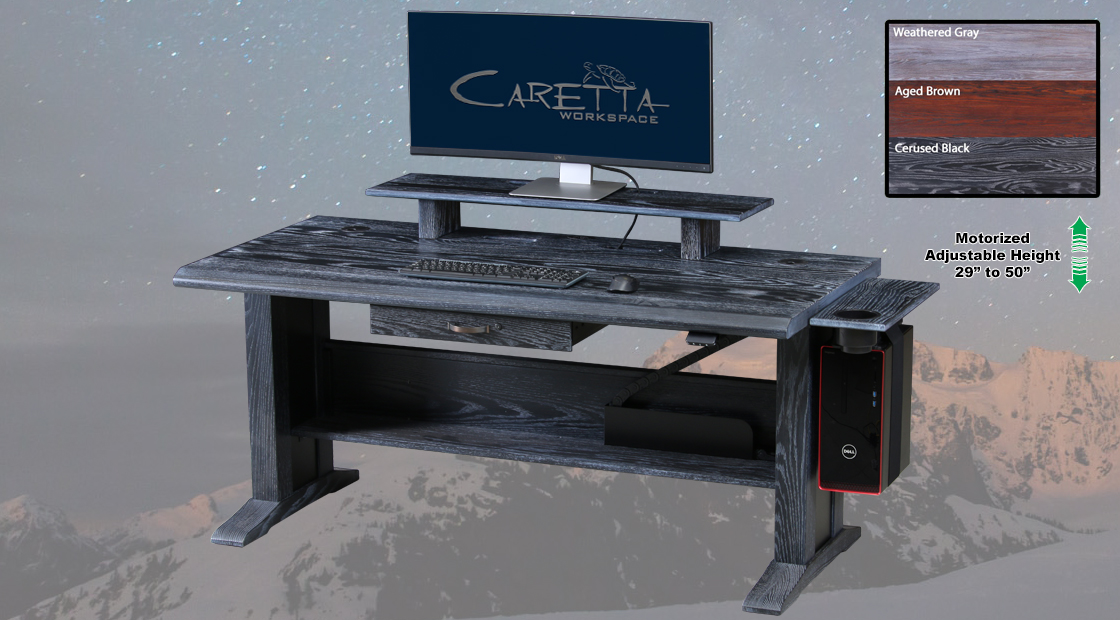 Our new Vinton Sit-Stand series is available in solid oak with these finishes, however we can make versions of our other products in these woods as well.
If you would like to see any of our other products in oak, just ask!

Request a wood sample here.
« Back to General Blog