Nine Caretta Essentials for Organizing your Workspace
August 22, 2017
Nine Caretta Essentials for Organizing your Workspace
For those who put off organizing their office until the famous "spring cleaning" guilt kicks in, or those who think it is impossible to have an organized luxury desk, we know better! Whether it's for stock trading, reading x-ray's, gaming, publishing, or just regular day-to-day home use, a functional office CAN be a beautiful office. At Caretta Workspace we believe that we created a better way for you to organize your office.
Organizing your workspace doesn't have to be overwhelming, and becomes easier when you have supporting products already in your office. Our cable management desks and companion products were designed to simplify office organization. Our modern desks were designed with the belief that hiding wires and managing your cables is only the start when it comes to a productive workspace. Let's dive into the nine essential features and products that we believe will transform your workspace!
How Caretta Workspace helps with organization:
#1 - Desk cable and wire management - What can I say? This is an entire category of topics on its own, but let's just say that Caretta Desks are designed around their cable and power management capabilities. It's so much more than just an integrated cable tray and surge suppressing power strip.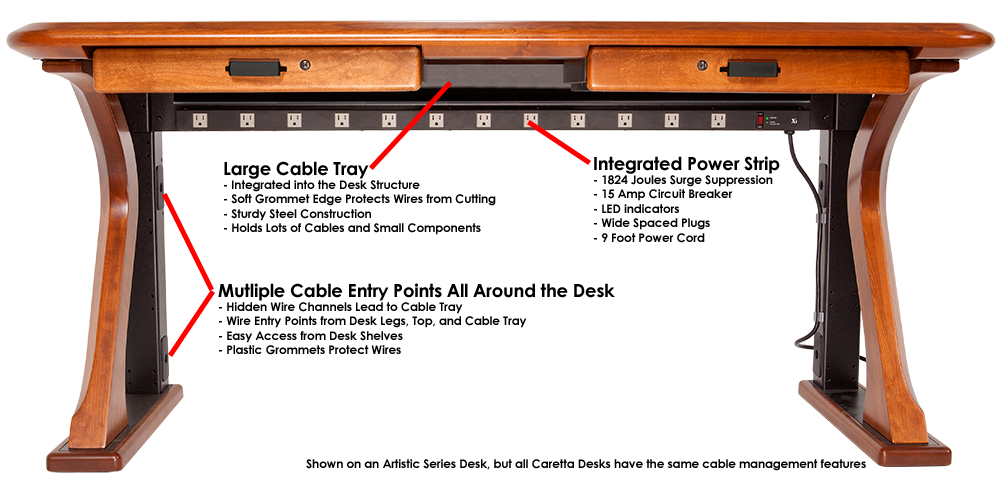 ---
#2 - Desk Drawers - There is no such thing as having too much storage space. All our desks have at least one large locking drawer that is large enough to store a laptop computer. Our drawers are manufactured from sturdy solid cherry hardwood with metal drawer bases to maximize depth. Micro-suede lining on most drawers provide a high-end touch, and dovetail joinery is a hallmark for high quality construction.
---
#3 - File Cabinets - At Caretta Workspace we know what it's like to have random files and paper everywhere. We offer several commercial-grade file cabinet options with premium wood tops that match the rest of your Caretta office, or can slide under the return of your L shaped desk. The file cabinets can hold different sizes of file folders in multiple configurations, laterally or side-by-side. Options include a 30" lateral and two pedestal options. If we don't offer the file cabinet that works best for you, just tell us what you need. In most cases we can find a solution!
| | |
| --- | --- |
| | |
---
#4 - Hutches - We offer two different hutch options, to match your personal or professional style. Our artistic hutch goes perfect with our Artistic Series Desks, and our contemporary hutch goes great with our Modern Urban, Traditional, L Shaped, Loft Series, Standing and College desks. You can mix and match the hutches to create a style that fits your ideal space. Each features locking doors, media shelves, and a handy pin-board where you can add an options LED light bar. These hutches don't have to be set against a wall either, as they have the same beautiful Caretta wood finish on all sides.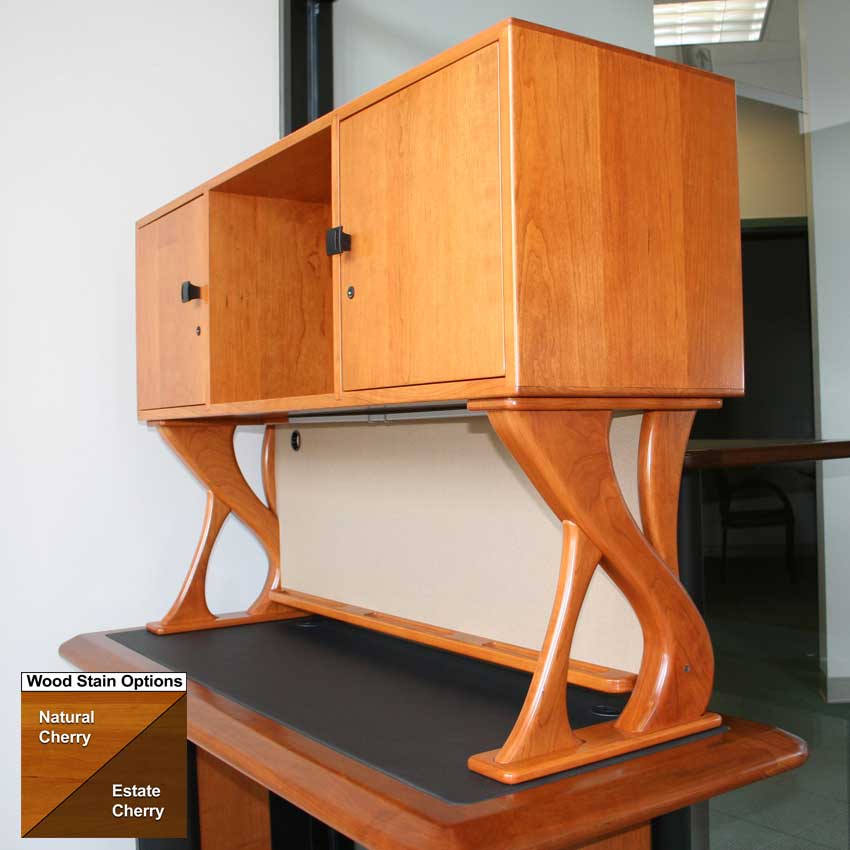 ---
#5 - Bookshelves - You know all those books floating from room to room taking up space? We created a series of book shelves that will fit every lifestyle and home décor, while eliminating that stack of books on your desk. We took a modern spin on the classic book shelf and built a Bookshelf Table. This table is perfect for not only your office, but truly any room. If you need additional space, we also designed a bookshelf with an added drawer.

The Artistic Book Shelf is a modern classic, with beautiful arcing solid wood sides that you won't be able to keep your hands off. Do you want a conversation piece on your office? The Artistic Book Shelf is it!
---
#6 - Power-Organizer Tower - If a traditional in-out basket is not your style, but you need someplace to store your papers at your fingertips, then the Power Organizer Tower is the right desk accessory for you. More than paper, you can store your wired components as well (I'm looking at you, backup hard drive), because there is access to the main desk cable tray and power strip. Talking about power, this tower has 3 power plugs right on front. Do you need an easy place to plug in your laptop or phone charger? Bingo! It's right there on your desktop!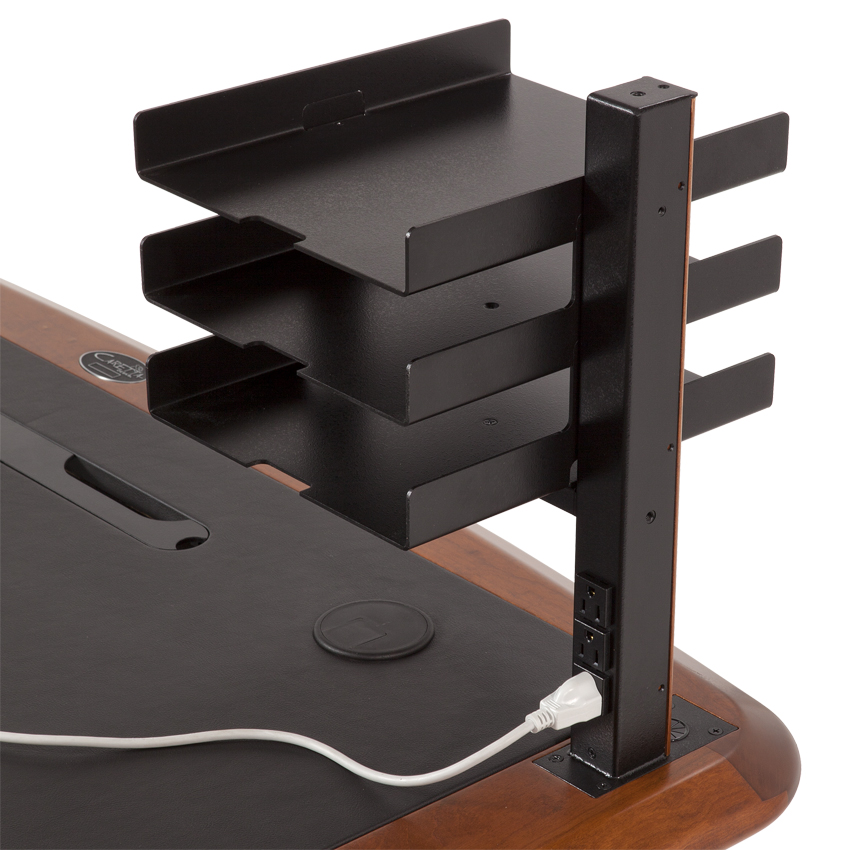 ---
#7 - Paper Trays - No need to pretend like those random papers scattered throughout your office and home do not exist. We have heavy duty paper trays and power organizer trays specially designed with our customers in mind. The paper organizer tray is made from a thick aluminum and solid hardwood, which makes for a substantial addition to any office. The power organizer tower allows our customers to plug devices into their desktop tower, while filing away additional papers.
---
#8 - Coat Trees - our coat trees are unlike any coat tree you have bought before. They are beautifully sculpted out of solid cherry hardwood and crafted with a flowing shape. With a more traditional coat tree, you hang your coats on rods or knobs, leaving that awkward looking bump in the back of your coat. With the Caretta coat tree, we utilize hangers to keep all your coats and garments looking fresh. The hanger's posts are positioned directly over the legs to give it maximum stability.
---
#9 - Desktop Connectivity and Charging - Get rid of more wires and add convenience to your desk with 3 optional devices. With the Desktop USB-SD-Charging Grommet, you can plug your charging cables or media cards into the desktop. The Wireless Qi Charger charges compatible devices by just setting them down. The Caretta Power Block brings 2, 15 Amp power plugs to the desktop.
---
At Caretta Workspace, we love designing and manufacturing products that help to take the stress out of organizing. We may not have invented the concept of organization, but we did add a luxurious and contemporary element. All our products mentioned above are easy to assemble and help complete the perfect workspace or room.
« Back to General Blog