Save on File Cabinets
February 11, 2020
Did you know that we can make a solid wood top to fit many different brands of file cabinets? The file cabinets that we offer are first shipped to us by the manufacturer, then on to our customers after we make a solid wood top for them. All of the extra shipping adds cost, which is why in many cases our file cabinets are more expensive. Attaching our top to your file cabinet is an easy step, but it can save a bunch. We can even help you to find a cabinet that works for you.
At Caretta, we're focused on making your life easier while adding luxury and style to your office. From our sit-stand desks and conference tables to our bookcases and lecterns, we make the finest hardwood technology furniture around. What's next to upgrade in your office suite of Caretta pieces? How about the one accessory everyone needs but no one likes to look at—the filing cabinet.
- We offer some very good file cabinets, but it might be more cost effective to get an equal, or similar quality file cabinet elsewhere.
- Use your existing file cabinet, we will make a top that matches your desk to fit
- Find a file cabinet at your local office store (Staples, Costco, etc.).
- Find a file cabinet elsewhere online. There are many good options at Amazon, Walmart, Global Industrial, and many more.
Here are come online options:
---
You bring the File Cabinet, we'll supply the solid wood top to match your desk!
Tops can be made to match any of the Caretta product finishes including Estate Cherry, Weathered Gray Oak, and more. Installing the top is ridiculously easy! It stays attached to the cabinet via a VHB (very high bond) adhesive tape. In two simple steps (ordering and installation), you've turned a metal eyesore into a luxury product to admire.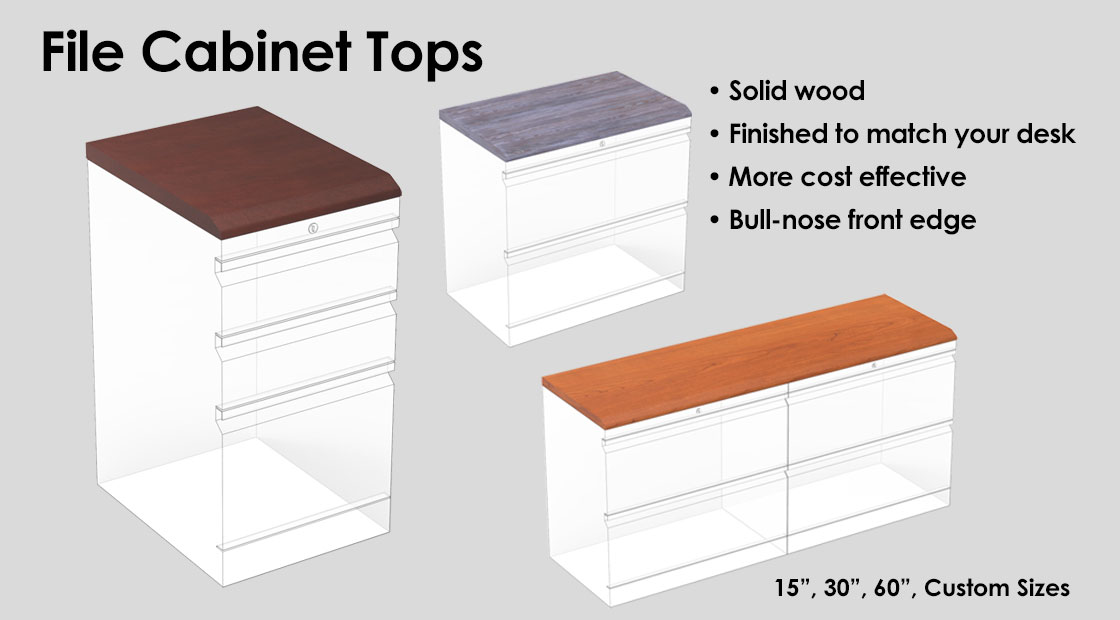 Once you order your Caretta filing cabinet top online, one of our staff will reach out to confirm the details. We'll review the dimensions of your filing cabinet and make any necessary adjustments to your order. Our master craftsmen then create your filing cabinet custom hardwood top from 1.25" thick Ohio hardwood. The piece is finished with a bull-nose front edge to compliment our desks and tables.
---
File cabinets to go under your desk
- Use this sizing guide to see if a file cabinet will fit under your desk: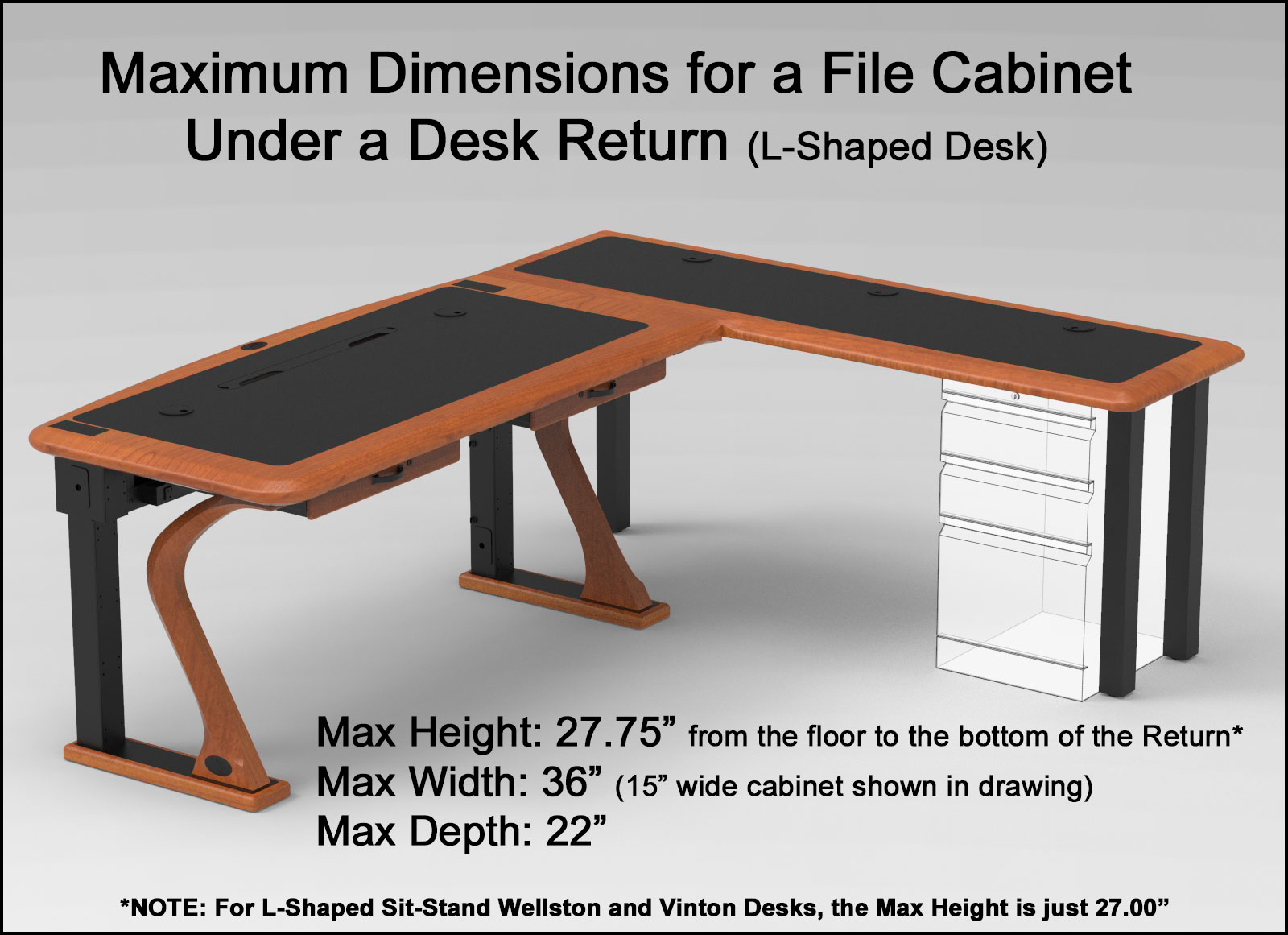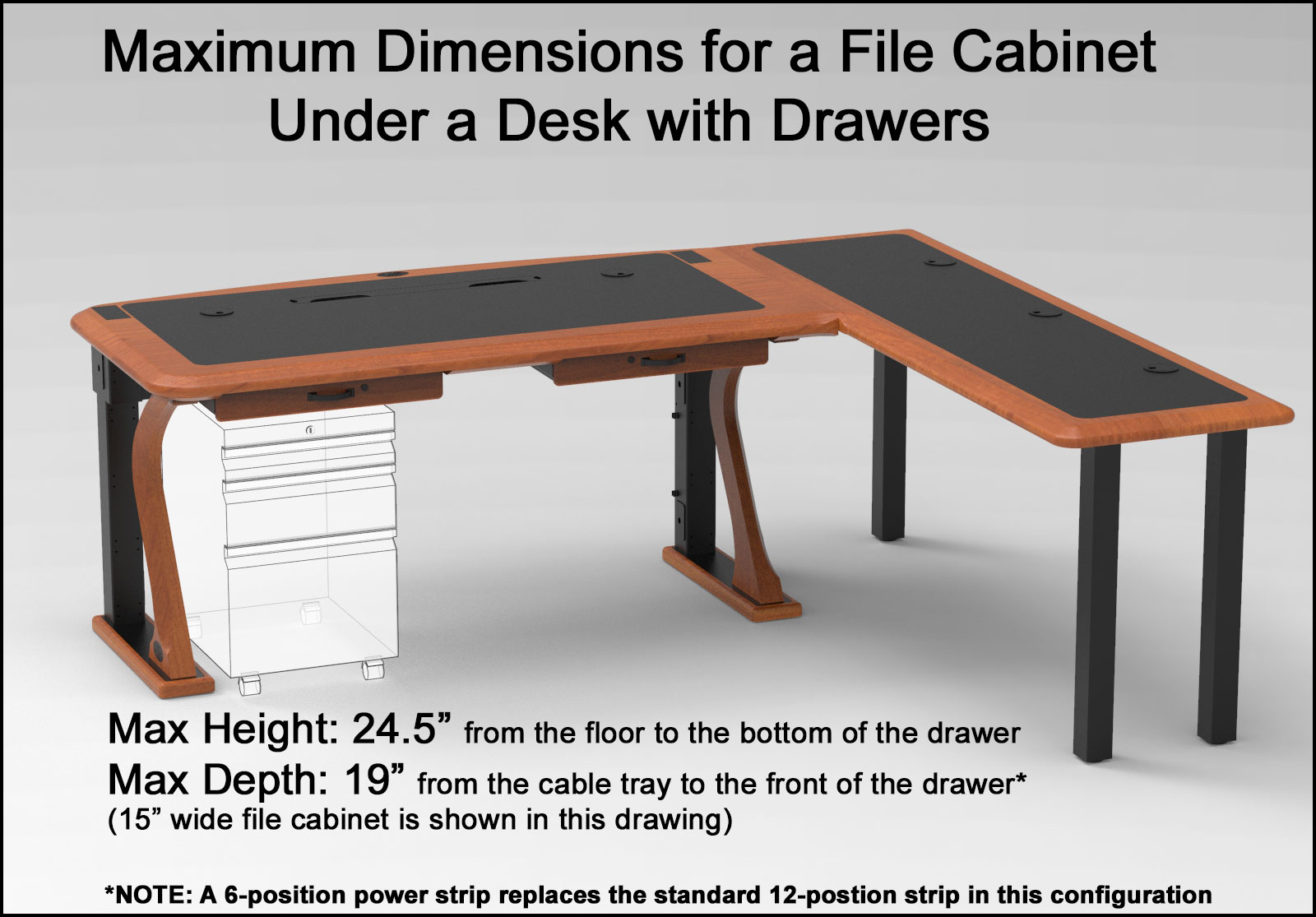 High-end products don't have to cost an arm and a leg. There are plenty of standard filing cabinets on the market and adding a solid hardwood top from Caretta is the best way to get the luxury piece you desire without spending a fortune. Add to your Caretta Workspace collection today with a solid hardwood filing cabinet top!
« Back to General Blog