Are You Shopping For A New Desk?
May 10, 2018
We know you shop around when deciding to purchase a new piece of furniture, especially centerpiece furniture such as a desk which may have a higher price tag. That's okay. There are some very nice offerings at stores such as Pottery Barn and Crate & Barrel. You may have even peeked into a few big box furniture stores. Did you find what you were looking for? Probably not. We know when it comes to value, functionality, and style, Caretta Workspace desks have a fair amount of added value compared to similarly priced products. The big question is, Should I buy the desk that I can see in the store that's just OK, or should I go for the one that I found online that looks AWESOME!!?. Here are some ways Caretta Workspace desks add extra value for a similar price of high-end furniture retailers. (Hint, you are getting much more for the same price.)
Solid Hardwood vs. Engineered Wood & Veneer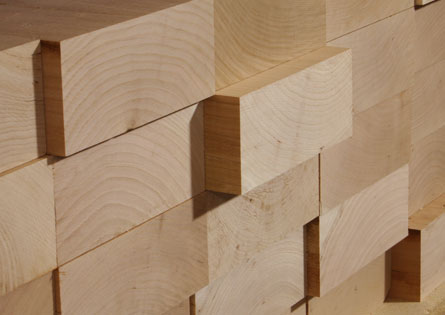 There's just something about wood. Real wood. First and foremost, with Caretta Workspace, you know you're getting solid American-grown hardwood. There's nothing wrong with engineered wood paneling. It looks…nice…but it's not real solid hardwood. When our craftsmen cut into a piece of solid wood, they are opening a time capsule. A study in wind and weather, sun, and rain, time and location that helped shape the feel, color, and grain of every unique board. When you cut into a piece of engineered wood you get, well…glue and sawdust. At best the top layer is a thin layer of veneer. At worst it's printed on fake woodgrain. Sometimes they'll glue a thin strip of real wood in the front edge of the desk. Nothing should tell you more than real wood matters. Why not avoid the chipboard all together and go with a solid wood Caretta desk.
Caretta Workspace strives to offer customers the best quality product for the best price. If you ever are curious about the hardwood we use to create our desks, contact us for a wood sample!
Configuring your desk to the way you work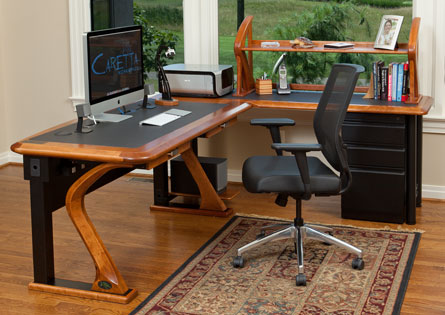 Try going into a retail store and explaining to the salesperson (either hovering or vacant) that you like the desk, but need shelves for your computer and printer, want to see their monitor arm options, and would love a place to plug your iPad into the desktop. Studying the glazed look on their face, you will realize that the answer is not in their script. When it comes to companion products and accessories, you can trust Caretta Workspace to have what you need to enhance your productivity. Caretta offers everything from computer monitor arms, wireless phone chargers, hutches, bookshelves, file cabinets, and more to make sure every aspect of your desk is customized to fit your needs! We can even laser-engrave your logo or other graphics into the front of your desk. Try that one, Pottery Barn!
If you're interested in our companion products, be sure to check them out today!
Technology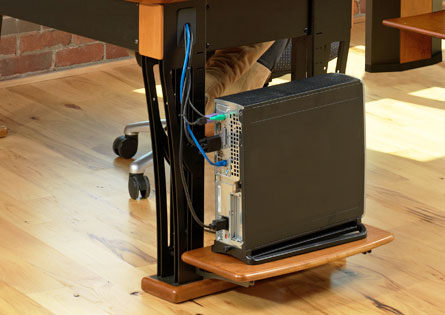 Our tagline is American Hardwood Technology Desks for a reason. To us, technology management is not a hook to hold your cables or a grommet in the desktop. It's integrated into our design philosophy. Our desks feature large, deep cable trays embedded into the structure of the desk, large surge suppressing power strips hidden under the desktop, wire grommets placed in exactly the right locations, extra power plugs, and device charging capability right on the desktop. Do you need extra monitor mounting locations and power requirements, integrated 19" rack, or custom connectors in the desktop? Just ask us.
Manufacturing
If you ever get the chance to visit our factory and showroom near Columbus, Ohio, you'll be able to see our manufacturing plant where each desk, table, and other Caretta products are handmade-to-order. Each desk is crafted by skilled woodworkers, so you know your Caretta Workspace desk is uniquely created for you and each of our customers. I'm sure the fine folks in Southeast Asia are very nice, but that ain't us.
Our Entire Sales Model: We design and manufacture it → We sell it to you.
If you see a desk in a retail store, have you ever thought of the journey it took to get to you? It was probably designed in an out-sourced firm, made by an off-shore contract manufacturer, represented by a company that you have never heard of, purchased in balk by buyers, gone through who knows how many exporters and importers and how many middlemen to eventually get to the store where they sell it to you. Those desks are made in volume to get the cost down, then all of those layers and retailers take their cut to bring the price up to where it is. We manufacture in much lower volume, with much higher quality materials, and can sell it for the same price because there are not any middle and retail markups. We also don't mark it way up, just to mark it way down so you think you are getting a deal. (Note: you are not getting a deal, you are compromising on quality.)
Although everyone may not be able to visit our showroom to see and feel our desks in-person, we make up for it in high-quality products and fair prices. After buying your first Caretta Workspace product, you'll understand why our products are worth every penny!
« Back to General Blog