Tools in Our Workshop: SawStop Table Saw Highlights Commitment to Safety in Wood Shop
January 15, 2018
Each Caretta desk, table, and accessory is designed with safety in mind. Whether it's the lifting columns in our Wellston Sit-Stand Desk or the cable management system built into each desk, safety is always a concern for us. This "Safety First" mentality even goes past our products and into the woodshop.
We recently added a new table saw by SawStop, who is known for its incredibly safe operation standards throughout each of their products. These saws are top-of-the-line, just like our desks! Each SawStop table saw has a built-in brake mechanism, which prevents blades from injuring the operator of the machine, even at full power, within 5 milliseconds after contact.
"Safety foremost," Andrew Gilbert, Director of Operations at Caretta Workspace, said. "Our guys have a lot of experience, but wood shops are inherently dangerous, so every layer of safety we add is a benefit to everyone."
The saw's blade carries a small electrical signal and when something interferes with the electrical current such as a finger, the safety system is triggered. This causes the blade to immediately stop spinning and power is turned off instantaneously to avoid any serious injuries. This has brought peace of mind to Jens, who helps train other woodworkers how to use the machines at Caretta Workspace.
"I'm even more comfortable training people that are new to this type of machinery," Jens said. "I don't have to worry about a major accident happening while the guys work on perfecting each desk.
"I think it shows our customers that we care as much about the safety of our workers as we do the quality of our products."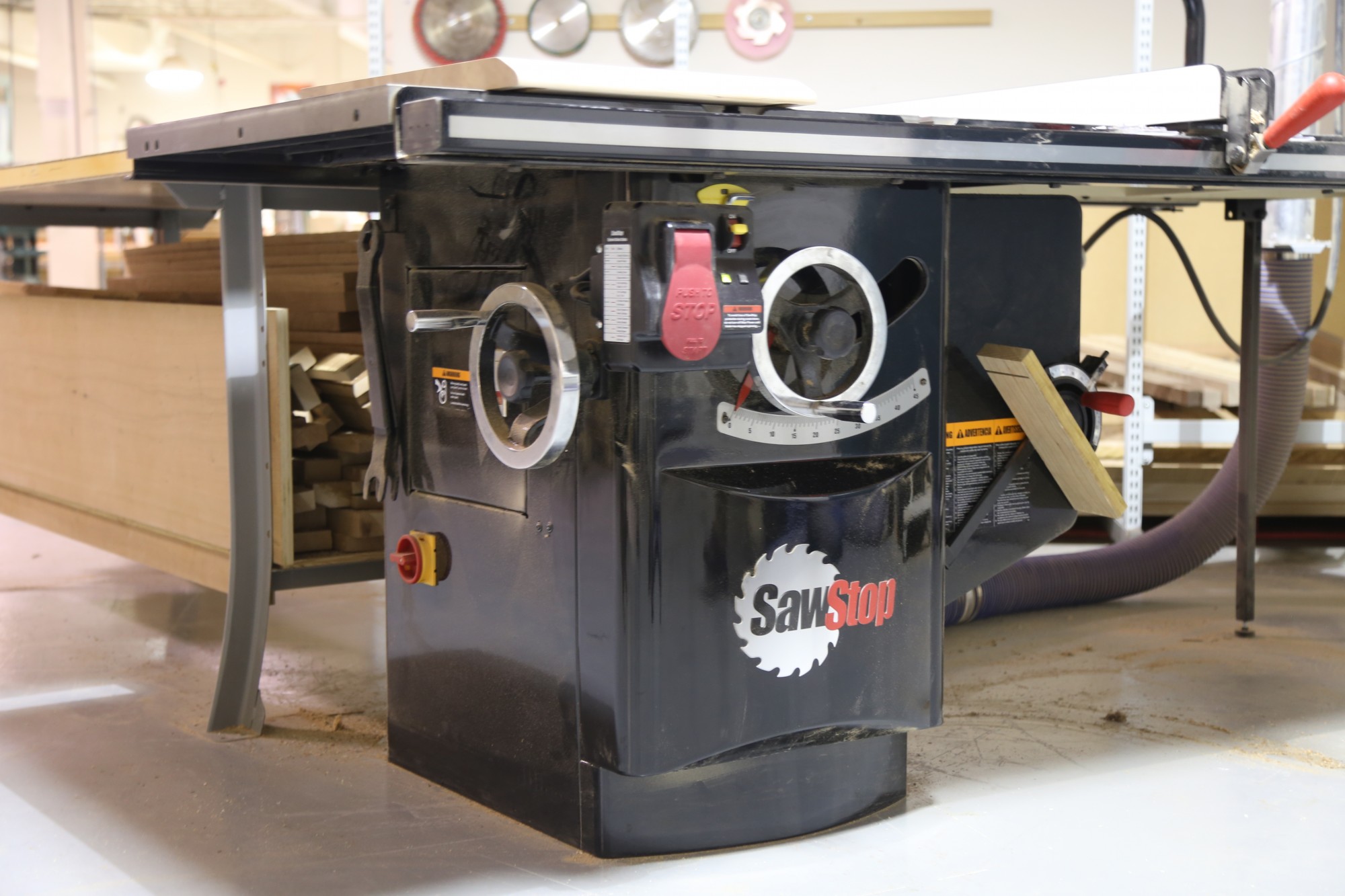 Just like SawStop, we have incorporated important safety features into our products too. Each Caretta product is engineered with safety top of mind to offer all of our customers and their families the same ease of mind SawStop offers our woodworkers.
"Safety is built into the design of our products," Andrew said. "From adding weight and changing geometry to reduce tip hazards, to using collision sensing components in our Wellston Desks. We know any piece of Caretta furniture will function exactly how it should and create a safe workplace for people of all ages to enjoy."
Okay now that you've seen a hot dog, check out this man putting his finger into the SawStop table saw! It was featured on the Discovery Channel show, TimeWarp.
When it comes to safety, Caretta Workspace drives to be a leader in the furniture industry. Not only for the people who make each piece but for each customer. Safety is just one of the great benefits you can expect from a Caretta Workspace desk, table, or accessory!
« Back to General Blog