What's Special about "Real" Cherry Hardwood?
July 21, 2017
Cherry hardwood has a timeless quality to it, with a beautiful natural color and unique grain pattern. It's durable, easy to work with and has a soft smooth finish. You can find cherry hardwood throughout our line of contemporary desks, tables and companion products. When built into furniture, cherry has amazing detail throughout the grain. The grain patterns in our Cherry furniture almost creates a 3D quality as you look from different angles. We love manufacturing high quality, luxury furniture from cherry wood and want to make fans of real cherry wood for those who love modern contemporary wood furniture. Real, premium solid cherry has very little resemblance to plastic laminate cherry, or some kind of imported mystery wood with cherry stain.
Let us start by explaining what true cherry wood is and why you will never find plastic or "mystery wood" at Caretta. Cherry hardwood is a high-grade solid brown American hardwood, with hints of red coloring to it. The hardwood from cherry trees is some of the most attractive wood in the world. As the cherry tree ages, the wood starts to darken slightly and forms the desirable and beautiful wood that we create our contemporary desks with today. Nothing close in color to those reddish orange country cabinets that possibly comes to mind. Cherry is a close-grained wood, which creates a soft, smooth feel when finished properly. The grain patterns are all unique and dramatic, each telling a story of time, weather and the environment of where the tree was grown.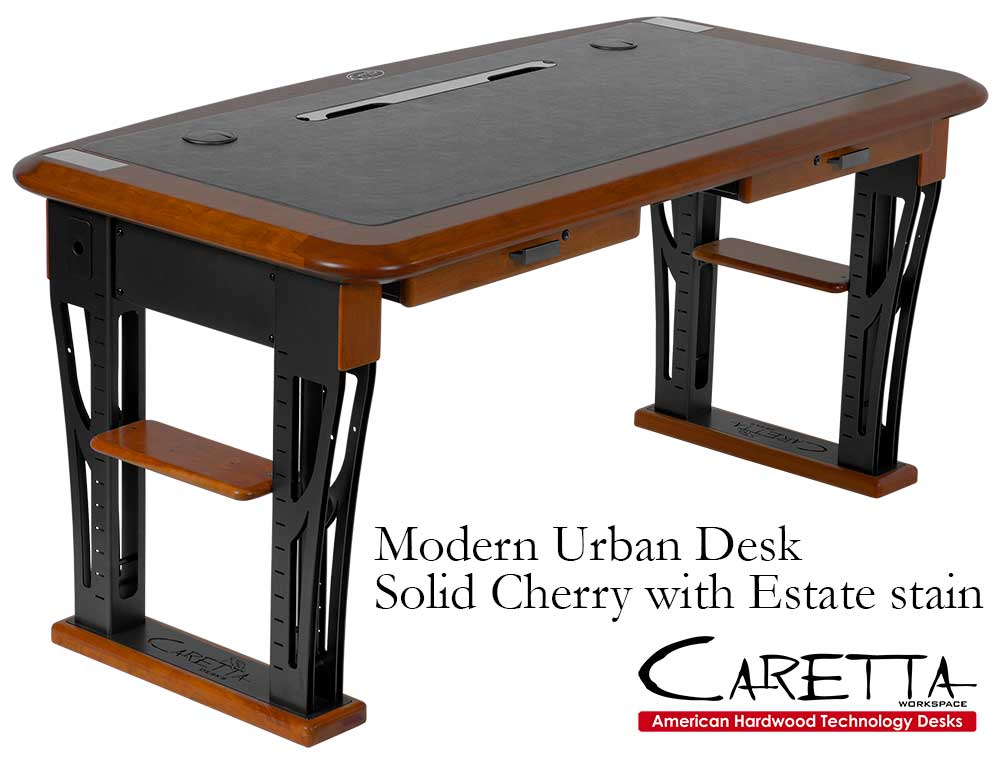 Cherry wood sounds beautiful and modern, you're ready to buy your next furniture piece, right? If you're still on the edge do not worry, we are here to help you understand why laminate furniture differs from cherry hardwood. To do so, let's dive into plastic laminate furniture. Laminate, is a man-made product, usually some form of plastic that manufacturers print to look like it has wood grain. This allows manufacturers to create furniture, cabinets, and flooring for less. There is a large difference in color between plastic laminate cherry or "mystery wood" with cherry coloring, as compared to real solid cherry hardwood. Cue the reddish orange cherry flashbacks now. Consumers started mixing their view of cherry wood when companies began creating furniture and home pieces with laminate material. The goal through creating laminate items was to produce a product for a low cost that allowed consumers to have a "wood" piece in their home.
At Caretta Workspace our goal is to bring high quality, contemporary furniture to our customers without cutting any corners. With our manufacturing facility located centrally in Ohio, we're in a region known for some of the most beautiful hardwoods in the world, and our wood supplier is located just down the road. That means the solid cherry wood going into our products has been locally managed, responsibly harvested, milled, dried, hand selected and delivered direct to our facility.
We would love for you to see for yourself why we are so found of cherry wood. At Caretta Workspace we offer our cherry furniture in two stains, Natural and Estate. Simply request a free sample of our cherry wood by clicking here.

Request a wood sample.
« Back to General Blog