Innovation Meets Art with Caretta Workspace
December 10, 2013
A central Ohio company has taken the clutter out of workspaces by creating a world-class desk design that is part artwork, part innovation. Caretta Workspace integrates technology, conservation and beauty while minimizing the clutter of cords on and around the desk.

"We know that people spend more time at their desk and in their home or office workspace than they spend anywhere else during their waking hours, and we also knew how frustrating it was for people to have that space cluttered by cables and charging wires from the ever-evolving technology that dominates business," said Andy Tracewell, Director of Marketing, Caretta Workspace.
"So, we have developed desks that not only are functional art, but also allow for a clear desk and workspace that allows them to be creative and productive."
Caretta Workspace is an American owned and operated desk and workspace manufacturer specializing in manufacturing luxurious, configurable workspaces that include computer desks, stand up desks, tables, shelves, coat racks and LED desk lamps. Each Caretta desk is one-of-a kind, with a numbered badge included on the piece.
Each Caretta desk demonstrates attention-to-detail with precision fit wood joinery, smooth hand sanded finish, micro-suede lined locking drawers, large cable trays and integrated surge-suppressing power strips, soft and durable writing surfaces and ease of assembly and shipping.
The manufacturer can also provide custom Laser-engraving on the desk, if desired. This option, by incorporating a customer's logo or other area of interest in the design, further personalizes the workspace.
Customers buy direct from Caretta's local manufacturing facility in Central Ohio, but Caretta's customers span North America – from British Columbia, Canada to Hawaii, New York to California, and everywhere in between.
"I looked high and low for the right furniture configuration for my home office," said John Chess, CEO of Realty Invest in Columbus, Ohio. "I came across Caretta Workspace. To my good fortune, [their] desk configured with existing components matched my needs perfectly. After the new furniture was delivered and installed I couldn't be happier with the end result. My office is more functional and looks like an interior decorator had designed the space."
Caretta desks are made of Ohio-grown solid cherry hardwood. The company is dedicated to sustainability, using products and processes that protect the environment, including the best Ohio-grown hardwoods from a Forest Stewardship Council ™ (FSC®) certified supplier, and manufacturing processes that are optimized to produce a minimal amount of waste. Caretta prides itself on quality rooted in "green" values. The wood finishes used in Caretta goods are low VOC (low in volatile organic compounds) and formaldehyde-free.
Caretta Workspace is named for the endangered Loggerhead Sea Turtle's scientific name. The Caretta turtle has been able to survive over thousands of years by securely protecting itself inside its shell, much the way the Caretta desk protects computer technology by managing all of the wires and cables inside of the desk. Additionally, for every desk sold, Caretta Workspace makes a donation to the Save the Sea Turtle Fund through the Columbus Zoo and Aquarium in Columbus, Ohio.
Information provided by Caretta Workspace. For more information, call 614-430-8660 or visit www.CarettaWorkspace.com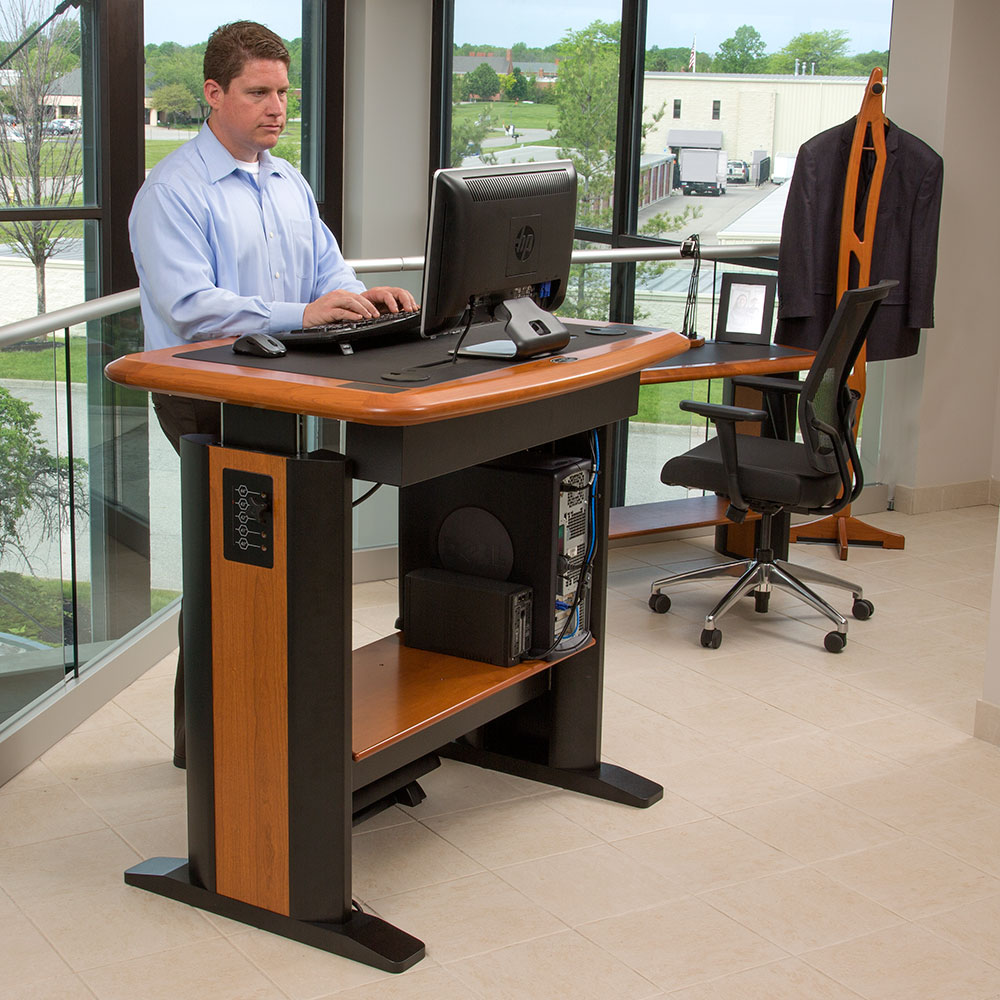 Shown: Standing Desk Petite, with Side Table and Coat Tree
« Back to General Blog